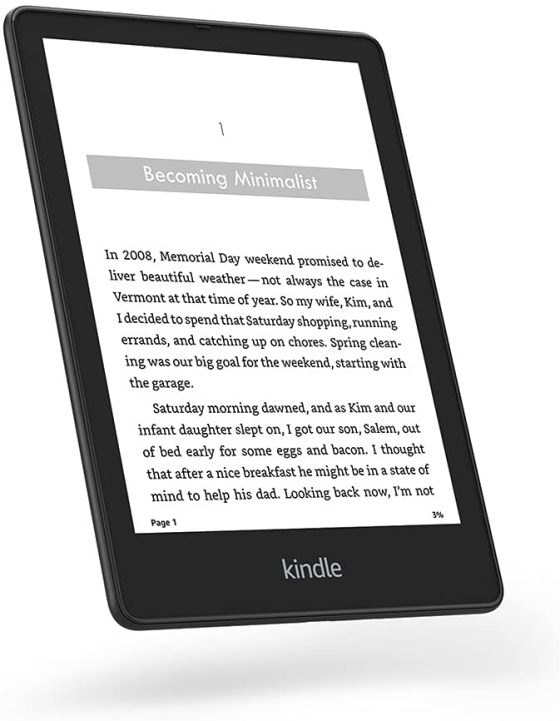 It's been a while since posting about free ebooks so here's a list of 10 free highly-rated Kindle ebooks from Amazon.
Amazon has some refurbished Kindle Paperwhites on sale, and this is also the last day to take advantage of Amazon's Kindle ebook deal where you can get a $5 credit after spending $15 on Kindle ebooks.
Please keep in mind the free Kindle books listed below are free as of October 16th, 2022. Most of these titles are free for a limited time only and will expire in the next few days or hours before going back to the regular list price.
A good place to find more free Kindle books is on the free bestsellers list at Amazon (but for some reason the list only appears on the desktop version of the site, not the mobile version).
You don't need to own a Kindle ebook reader or a Fire tablet to read these free ebooks; you can use free Kindle reading apps for iPad, iPhone, and Android devices, or use a computer or web browser.
Subscribe to The eBook Reader Blog to keep updated on future free ebooks posts, along with ebook reader news, reviews and how to guides, or you can follow this site on Facebook and Twitter to get updates.
Kindle Deals
Spend $15 on Kindle eBooks, Get $5 Credit – Select accounts, ends today, October 16th
Up to 80% off, select Science Fiction & Fantasy Kindle eBooks – 10/16 only
Kindle Paperwhite 5 – $94.99 refurbished
Kindle Paperwhite 5 Signature Edition – $139.99 refurbished
Kindle Paperwhite 3 – $19.99 refurbished
Kindle Oasis 2 – $99.99 refurbished
Get 20-40% off Kindle Unlimited Gift subscriptions
Kindle Unlimited Promos – Offers vary by account
Amazon First Reads – Free eBooks for Prime Members
Get 20% off New Kindle with Trade-in
10 Free Kindle eBooks
Murder in the Manor by Fiona Grace
Mystery, 4.3 stars, 10057 reviews
Lacey Doyle, 39 years old and freshly divorced, needs a drastic change. She needs to quit her job, leave her horrendous boss and New York City, and walk away from the fast life. Making good on her childhood promise to herself, she decides to walk away from it all, and to relive a beloved childhood vacation in the quaint English seaside town of Wilfordshire. Wilfordshire is exactly as Lacey remembers it, with its ageless architecture, cobblestone streets, and with nature at its doorstep. Lacey doesn't want to go back home—and spontaneously, she decides to stay, and to give her childhood dream a try: she will open her own antique shop…
Nest Egg by Josi Avari
Mystery/Suspense, 4.6 stars, 209 reviews
Saffron Skye has inherited a little piece of Hawaiian paradise. Only it's filled with the leftovers of her late uncle's life and overrun with his enormous flock of chickens. When her new friend, the oldest man in town, dies, no one else finds it suspicious. But as the town's newest poultry keeper Saffron recognizes fowl play when she sees it. Saffron is a tetrachromat and can see colors nobody else can see. If only she could do the same with killers. To find the culprit–and the victim's hidden fortune–Saffron will have to look in some surprising places. Even her new flock will lend a wing…
Beyond Everlight by Debbie Cassidy
Dark Fantasy, 4.4 stars, 173 reviews
Monsters plaque my city. They crawl out of shadowy Breaches in the fabric of our world, hungry for human flesh. It's my job to stop them. They call my kind Fearless. We're born with a brand that allows us to see the monsters, to fight them. To kill them. It's a dangerous job and I'm damn good at it. And if worse comes to worst our treaty with a dangerous dark djinn keeps the worst of the threat at bay. Until the day things go wrong…
Blood Orphan by Samantha Adair
Thrillers/Suspense, 4.3 stars, 198 reviews
'Tom sits on the floor studying the two dead bodies in front of him. It's been a while since he killed. Like riding a bike… only messier.' Tom Grant, disgraced government agent and functioning alcoholic, is assigned a simple job. Take Isabella Wirth from a banquet before a contract killer puts a bullet in her head.An opportunity to redeem himself. A babysitting job. For one night. Isabella, code breaker at a secret intelligence agency is assigned her own job. Seduce Tom and lure him to a hotel room. In the space of twenty-four hours, a secret Isabella has kept for ten years unravels, and they discover their pasts are intrinsically connected…
Christmastime 1939 by Linda Mahkovec
Holiday Fiction, 4.5 stars, 518 reviews
Christmastime 1939 introduces the reader to the Christmastime Series. Set in Brooklyn, we meet the young widow Lillian Hapsey and her two sons, Tommy and Gabriel. Even though the Christmas season is just around the corner, Lillian has no Christmas spirit. Alone, unhappy with her job, and plagued by financial concerns, Christmas has become a burden to her. Overshadowing everything is the war in Europe. Despite the setbacks, Lillian is determined to give her sons a happy Christmas…
Aloha Means Goodbye by Robert W. Stephens
Mystery, 4.3 stars, 276 reviews
Edgar Allan "Poe" Rutherford just lost his job, his girl, and his chance at a relaxing island vacation. When the brutal murder of a celebrity artist is pinned on his friend, Poe refuses to lose his best buddy to the Maui penitentiary. As he works his way down the gallery guest list, he navigates through bloated egos, heated rivalries, and more than a few eccentric personalities along the way. But he never expected the hunt for truth to reveal a second chance at love…
The Moscow Brief by KJ Kalis
Thriller, 4.4 stars, 96 reviews
The arrival of an unexpected guest at the ranch throws Travis headfirst into trouble. A man shows up on his doorstep claiming an agent that saved his life has gone dark and is nowhere to be found. Worse yet, the CIA believes her to be a traitor. A simple dinner to talk through the details leads to murder and a plan to topple the entire US government, a threat that even Travis can't ignore. Now it's Travis's mission to save the agent and uncover the truth, if he can find her in time…
Lyrics of a Small Town by Abbi Glines
Romance, 4.5 stars, 1952 reviews
A small town where pickup trucks rule, the farmer's market is bigger than the grocery store, and just about everyone goes to church on Sunday is the last place Henley Warren expects to find herself three months after her grandmother's death. But Gran left a list of things she needed Henley to do after she died, and fulfilling those wishes means spending a summer in the same place her mom fled from when she was only seventeen years old. With each task that is ticked off the list, events are set in motion that uncover secrets surrounding Henley's life…
Magic Awakens by Lucia Ashta
Fantasy, 4.5 stars, 266 reviews
In nineteenth century Norland, magic is forbidden, punishable by death. But it's coming for Clara… Clara was born into the nobility at a time when rank and power are more valuable than the bonds of family. Her parents have plans for her, all involving her arranged marriage to a suitor selected for her. Every step of her path is meant to end with her walking down an aisle then popping out heirs, to eventually begin the cycle anew. She cringes at the thought of her destiny, but does all she can to accept the fate her parents have chosen for her…
The City of Infinite Life by J. M. Mulligan
Science Fiction, 4.3 stars, 121 reviews
Awakening in a utopian future, Harper Lewis discovers a world filled with nanotech-enhanced humans and wondrous AI technology. But this timeline is not her own, and, as a stranger rushes to help Harper flee her surroundings, she soon realizes this is not a dream but a dangerous new reality. Aside from her overly involved parents, Harper led a normal life as a software engineer in 2019, but as she comes to consciousness in 2123, she discovers that the old life she knew has now been taken from her. Inhabiting a strange body, with an unknown man calling her by someone else's name, Harper's future is uncertain…