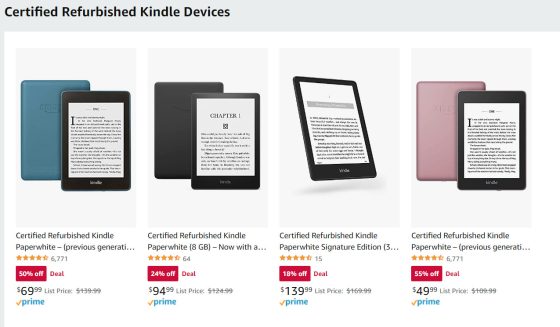 If you're looking to get a Kindle at a discount, Amazon and Woot have the current Kindle Paperwhite, including the Signature Edition model, available as refurbished units at a discounted price.
Amazon also has the previous generation Kindle Paperwhite 4 marked down to $49.99 for refurbished units, and the 32GB version is $69.99.
The refurbished 8GB Kindle Paperwhite 5 is on sale for $94.99 at Amazon, but it's $10 cheaper at Woot. The same goes for the Signature Edition model—it's also $10 cheaper from Woot at $129.99.
The only difference is the Woot Kindles come with a 90-day warranty, whereas the ones purchased directly from Amazon come with the same 1-year limited warranty as new Kindles.
The deals at Woot are the lowest price the Kindle Paperwhite 5 has sold for since it was released last year, even though they're refurbished. The Woot deal ends in 3 days or until sold out, but the purchase limit is 10 so they must have quite a few available.
Here's the list of deals:
Kindle Paperwhite 4 at Amazon – $49.99
Kindle Paperwhite 5 at Amazon – $94.99
Kindle Paperwhite 5 at Woot – $84.99
Kindle Paperwhite Signature Edition at Amazon – $139.99
Kindle Paperwhite Signature Edition at Woot – $129.99