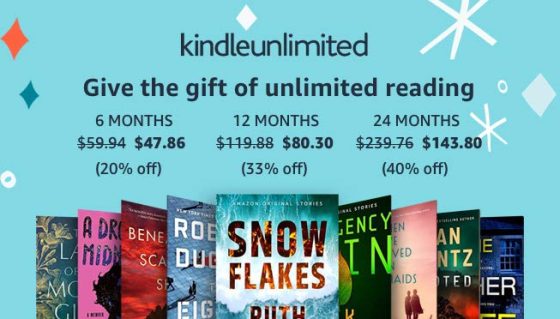 If you're looking for a unique gift idea, or if you're just someone that enjoys reading Kindle ebooks, Amazon has Kindle Unlimited gift subscriptions available for 20-40% off the regular price of monthly plans.
This isn't something Amazon advertises very often, but these gift deals are actually 20-40% off all the time if you know how to find the page on Amazon's website. You can send the subscription to someone as a gift or you can redeem the discounted offer yourself and apply it to an active Kindle Unlimited subscription.
Either way it's a good way to get a substantial discount on Kindle Unlimited, which normally costs $9.99 per month, but with this deal you can get it for as little as $6 per month.
If you're unfamiliar with Kindle Unlimited, it's Amazon's ebook subscription service that provides unlimited access to a library of over 3 million Kindle ebooks, thousands of Audible audiobooks, and a selection of comic books that are all accessible anytime using a Kindle app or Kindle ereader or Fire tablet.
This deal is available in three tiers:
6 months – $47.86 (20% off)
12 months – $80.30 (33% off)
24 months – $143.80 (40% off)
Recipients can exchange a gifted Kindle Unlimited subscription for a regular Amazon gift card if it's something they decide they don't want, and a gifted subscription can be applied to extend and active subscription as well.