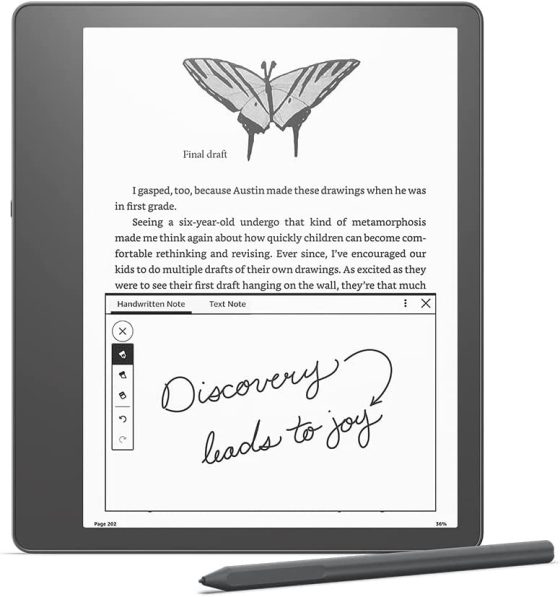 It's time for another list of 10 free highly-rated Kindle ebooks for the weekend.
Amazon still has the Kindle Scribe on sale too for the next 2 days, along with Kindle Scribe covers.
Please keep in mind the free Kindle books listed below are free as of January 8th, 2023. Most of these titles are free for a limited time only and will expire in the next few days or hours before going back to the regular list price.
A good place to find more free Kindle books is on the free bestsellers list at Amazon (but for some reason the list only appears on the desktop version of the site, not the mobile version).
You don't need to own a Kindle ebook reader or a Fire tablet to read these free ebooks; you can use free Kindle reading apps for iPad, iPhone, and Android devices, or use a computer or web browser.
Subscribe to The eBook Reader Blog to keep updated on future free ebooks posts, along with ebook reader news, reviews and how to guides, or you can follow this site on Facebook and Twitter to get updates.
Kindle Sales
Kindle Scribe 16GB with Basic Pen – $294.99 ($45 off)
Kindle Scribe 16GB with Premium Pen – $319.99 ($50 off)
Kindle Scribe 32GB with Premium Pen – $334.99 ($55 off)
Kindle Scribe 64GB with Premium Pen – $359.99 ($60 off)
Kindle Scribe Covers on Sale
Kindle Scribe Fabric Folio Cover – $49.99 ($10 off)
Kindle Scribe Leather Folio Cover – $64.99 ($15 off)
Kindle Scribe Premium Leather Folio Cover – $74.99 ($25 off)
More Kindle Deals
Kindle eBooks Sale starting from $0.99 – 1/8 only
Get up to 40% off Kindle Unlimited subscription
Kindle Unlimited Promos – Offers vary by account
Amazon First Reads – Free eBooks for Prime Members
Get 20% off New Kindle with Trade-in
10 Free Kindle eBooks
Biohack by J.D. Lasica
Thriller, 4.5 stars, 186 reviews
An elite hacker. A grieving mother. A startling discovery that alters their lives. Kaden Baker, a hacker and covert ops specialist, finds her life turned upside down when she discovers that the parents who raised her were imposters. Were they hired by the same shadowy figure who's been financing her high-stakes secret missions beneath the Vatican and in Washington, D.C.? She crosses paths with Valerie, a special ed teacher still haunted by her toddler's drowning accident…
Don't Tell Me You Love Me by Holly Kerr
Romance, 4.4 stars, 150 reviews
Shae was told as a kid that she was dying but that doesn't mean she's going to stop living. Now a famous travel vlogger, Shae's bucket list is overflowing and she keeps adding to it. There's no place, no experience, no adventure that she won't try. Except falling in love. Even Emmett—hot, hunky farmer/former ball player, isn't going to be able to change her mind, especially when she finds out his wife died. But after a new doctor gives her unexpected news, Shae's scared that she's pushed Emmett too far.
Star-crossed Witch by Deanna Chase
Paranormal Romance, 4.4 stars, 1079 reviews
Welcome to Miss Matched Midlife Dating Agency, where Marion Matched is ready to help you find your soul mate. When it comes to dating, Marion Matched has seen it all. She's the witch people call when they're fed up with unsolicited d*ck pics on their dating apps, being ghosted, or asked to do questionable things with their date's feet. She has the unique ability to just know when two people are perfect for each other. There's only ever been one person she hasn't been able to match—herself. And that's fine with her…
Dead Before Dinner by Kat Bellemore
Mystery, 4.3 stars, 76 reviews
Psychologist Maddie Swallows' decision to return to New Mexico seemed like a good idea at the time, considering the divorce and her two teenagers she'd dragged along for the ride. But that was before the New Year's Eve party she was guilt-tripped into attending. Before a member of the town council wound up dead and everyone at the party became a suspect. And before she was forced to unravel the secrets of her former hometown in order to clear her name. Of course, with the help of two precocious teenagers and one meddling mother, the real murderer doesn't stand a chance.
Wicked Moons by Ruby Raine
Fantasy, 4.4 stars, 1031 reviews
The Rules of Being a Howard Witch:
Bring new witches into the world to replenish the bloodline.
Don't expect to live long enough to meet your grandchildren.
And now, our parents are dead and we're the last three witches who can keep the family legacy alive.
Only, I've been bitten by a werewolf so falling for a human is too dangerous…
Storm Portal by Michael R. Stern
Time Travel, 4.3 stars, 268 reviews
When history teacher Fritz Russell walks through his classroom door, he finds himself in the company of General Robert E. Lee – over 150 years in the past. Fritz finds his sudden time trip to the past both a gift and a chance for great adventure. But when a portal opens to the Oval Office, he realizes that the mysterious gate could also be put to a more serious purpose. When the president hires him to help with national security, Fritz doesn't believe there is any danger in traveling across time and space. But will his own government consider him expendable if he cannot solve the mystery of the portal?
The Gifting by K.E. Ganshert
Supernatural Romance, 4.5 stars, 1342 reviews
In a world where nothing supernatural exists, Tess Eckhart is positive she's going crazy. After her complete freakout at a high school party, her family is too. So much that they pack their bags and move across the country, next to a nationally-renowned facility for the mentally ill. Tess is determined to fit in at her new school, despite the whispers and stares. But when it comes to Luka Williams, a reluctantly popular boy in her class, she's unused to a stare that intense…
Just Me by Blake Pierce
Suspense/Thriller, 4.5 stars, 383 reviews
With her tattoos and piercings, MIT tech genius Cami Lark is rebellious and anti-authoritarian—and finds herself in deep trouble when she hacks the FBI. Faced with the choice of prison or aiding the BAU hunt down serial killers, Cami reluctantly partners. Yet when she is faced with a killer with a penchant for Augmented Reality, and with future victims lives on the line, Cami may have found more than she bargained for.
The Aroostine Higgins Series by Melissa F. Miller
Thriller, 4.5 stars, 1422 reviews
Government records, medical equipment, elevators, security alarms … they're all remotely controlled and monitored by computerized industrial control systems. It's convenient, efficient, and potentially deadly. Assistant U.S. Attorney Aroostine Higgins has put her personal life on hold to join the Department of Justice's elite Criminal Division. She's about to prosecute a major bribery trial—one that could make or break her career. But everything's going wrong…
The Roses Underneath by C.F. Yetmen
Mystery, Thriller & Suspense, 4.4 stars, 605 reviews
It is August 1945 in Wiesbaden, Germany. With the country in ruins, Anna Klein, displaced and separated from her beloved husband, struggles to support herself and her six-year-old daughter. As a typist at the Collecting Point for the US Army's Monuments Men she barely has her head above water. When the easy-going American Captain Henry Cooper recruits her as his translator, they stumble on a mysterious stash of art, and Anna finds she has a bigger gift for sleuthing than for typing. And Cooper's penchant for breaking the rules provides an enticing taste of a newfound freedom that might change the future she thought she had planned.