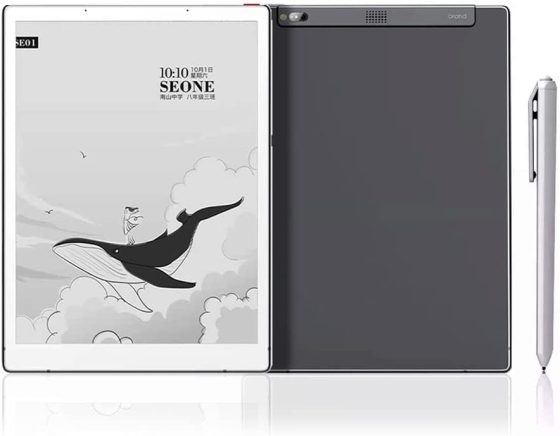 Another obscure eNote from China called the "Hipoink Electronic Book Reader" has turned up for sale on Amazon for $375 with free shipping (from China).
It has a 10-inch E Ink screen with a frontlight, and it comes with a stylus for writing on the screen. They say it's a Wacom stylus but there are a number of inaccuracies on the product page so it's hard telling what's accurate and what's not.
Apparently this "Hipoink" ereader runs Android 11 and is open to installing apps (it most likely doesn't support Google Play, however, but it says there is a built-in app store).
As far as specs go, the Hipoink ereader has 32GB of storage, 2GB of RAM, a quad-core RK3566 1.8GHz CPU, Bluetooth, WiFi (2.4) and there's a memory card slot. It also has a speaker, a mic, a 5MP rear camera, and USB-C port with support for OTG (meaning you can connect things like keyboards, headphones, a mouse, etc).
They list two different display resolutions on the product page, and both are most likely wrong, and I question that it has a 10.3-inch screen as they suggest because one thing that's different about this model is it doesn't have an asymmetrical design like all other 10.3-inch ereaders so I would bet that it isn't really using a 10.3-inch screen at all. It's probably something different like the Meebook P10 that has a 10-inch 200 ppi screen.
It supports common ebook formats like PDF, EPUB, TXT, FB2, DOC, etc.
I don't know why people take chances on these half-baked ereaders from China, but some people are more adventurous than others, I guess. I've never heard of this brand before and I've never seen this particular model before (sometimes they use common models rebranded under different names). Something from Onyx would be a safer bet, and likely more functional, if you're looking for an Android-powered eNote capable of installing apps, but this model is quite a bit cheaper than Onyx's offerings.