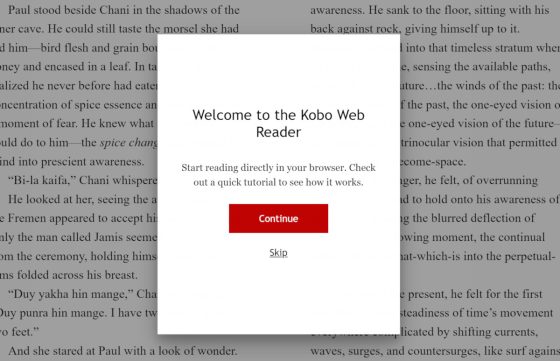 Kobo has released a new Web Reader that lets customers read purchased Kobo ebooks using a web browser on a computer or a phone or tablet.
To access the Kobo Web Reader you have to login to your Kobo account on Kobo's website and then view your list of purchased ebooks. Below eligible titles there's a "Read Now" button that launches the Web Reader.
Apparently not all ebooks work with the Web Reader but most seem to, and audiobooks aren't supported at all. Compatible browsers included Chrome, Firefox, and Safari.
When using the Web Reader, you can adjust the font size, and there are lots of sizes to choose from, and lower settings use two columns, but you can set it to just show one page as well. There's a full screen mode too.
You can turn pages using the mouse wheel or by using the left and right arrows on the keyboard, or you can click the screen with the mouse. The space bar opens the menu, or you can click at the top of the page to show and hide the menu.
There are four different font choices, serif, sans serif, open dyslexic, and publisher default. There are three margin settings, but no line-spacing options. There are different themes as well for light, sepia, and dark mode.
There's a table of contents for navigating, along with a progress bar at the bottom of the page that shows page numbers. There doesn't appear to be any way to add bookmarks or highlights, and you can't select words to lookup in the dictionary like you can on Kobo ereaders. But it does save your last page read to sync on other devices and apps.
See the Kobo Web Reader help page for more information about how the Web Reader works and to see a list countries where it is currently supported.