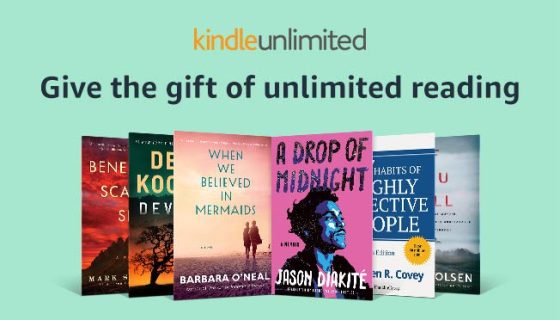 This is something I've posted about before but not very many people know about it. There's an easy way to get a Kindle Unlimited subscription for $5.99 per month, and you can always get if for that price so there's really no reason to pay full price.
Amazon's Kindle Unlimited ebook subscription service normally costs $9.99 per month, and that's probably what most people end up paying because that's what Amazon automatically charges when paying month-to-month.
But if you like Kindle Unlimited and want to keep using it for more than a month here and there, you're better off buying a longer term at a discount.
Amazon doesn't advertise it very often, but they sell Kindle Unlimited gift subscriptions for 25-40% off the regular price, and they've been selling them at that price for several years now. That page is pretty much impossible to find on Amazon's website, but you can bookmark it for future reference.
You can buy gift subscriptions and give them to other people, but you can also redeem them yourself and apply them to your own Kindle Unlimited membership at any time. If you have an active subscription the extra months will get added on to the end of your existing term.
The most economical option is a 24-month subscription for $143.80. That works out to a fraction of a cent over $5.99 per month.
If you don't want to commit to that long of a term, you can also get 6 months for $7.98 per month or 1 year for $6.69 per month.
Either way, if you like Kindle Unlimited, that's better than paying full price every month using Amazon's standard auto-pay method.
They used to offer free trials quite often that you could string together to get Kindle Unlimited for free for several months. They don't seem to do they much anymore, but you can still usually get 2 months for free now and then, like by using the banner in the sidebar. You can also get 3-months free when buying a new Kindle.