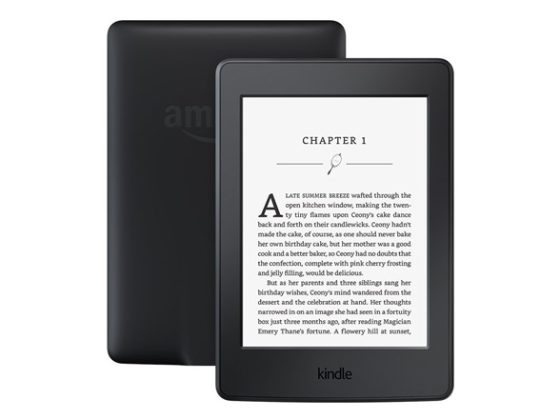 Here's a list of 10 free Kindle ebooks to help get the weekend off to a good start.
Woot also has some refurbished Kindles available again for cheap, including the Kindle Paperwhite 3 for $19.99.
Please keep in mind the free Kindle books listed below are free as of February 25th, 2023. Most of these titles are free for a limited time only and will expire in the next few days or hours before going back to the regular list price.
A good place to find more free Kindle books is on the free bestsellers list at Amazon (but for some reason the list only appears on the desktop version of the site, not the mobile version).
You don't need to own a Kindle ebook reader or a Fire tablet to read these free ebooks; you can use free Kindle reading apps for iPad, iPhone, and Android devices, or use a computer or web browser.
Subscribe to The eBook Reader Blog to keep updated on future free ebooks posts, along with ebook reader news, reviews and how to guides, or you can follow this site on Facebook and Twitter to get updates.
Kindles Deals
Kindle Paperwhite 3 – $19.99
Kindle Oasis 2 – $99.99 – $129.99
Kindle Oasis 1 – $79.99
Kindle Oasis 1 with Cover – $145.49
Get up to 40% off Kindle Unlimited subscription
Kindle Unlimited Promos – Offers vary by account
Amazon First Reads – Free eBooks for Prime Members
Get 20% off New Kindle with Trade-in
10 Free Kindle eBooks
The Little Grave by Carolyn Arnold
Thriller, 4.5 stars, 1925 reviews
It's been five years since Detective Amanda Steele's life was derailed by the tragic death of her young daughter. The small community of Dumfries, Virginia, may have moved on, but Amanda cannot. When the man who killed Lindsey is found murdered, she can't keep away from the case. Fighting her sergeant to be allowed to work such a personal investigation, Amanda is in a race to prove that she can uncover the truth. But the more she digs into the past of the man who destroyed her future, the more shocking discoveries she makes…
Flame and Crystal Thorns by Kay L Moody
Fantasy, 4.5 stars, 214 reviews
As a human girl, Chloe is perfectly happy being back in the mortal realm where she belongs. She's even become the town apothecary. When a fae from her past shows up begging her to return to Faerie, she utterly refuses. But then she finds out an angry group of mortals are using iron to hold an entire castle full of fae hostage. And of course, the hostages include Chloe's older sister and her sister's beloved. Reluctantly, Chloe packs a bag for what is supposed to be a short trip to Faerie…
Murder in Tuscany by L.B. Hathaway
Mystery, 4.5 stars, 1493 reviews
Pregnant, bored, and longing for an adventure, Posie Parker accepts a rather last-minute Wedding Invitation from an old friend who is getting married out in the gorgeous town of San Gimignano, Tuscany. But what Posie -and her husband, Richard Lovelace- arrive into is not a blissfully happy wedding party at all. It's a chaotic mix of mistrust, unfaithful fiancées, bizarre Death Threats, uninvited wedding guests and a big dollop of very real unease. As the wedding pre-dinner party unfolds, a murderer strikes again and again…
Battleship Leviathan by Craig Martelle
Science Fiction, 4.4 stars, 2378 reviews
Built for a time when the races were just finding their way to the stars, finding that they could dominate others. The galactic conquests created the arms race and the ancients, the Progenitors had to protect their own. They built a ship to drive the others away. It worked. And it didn't. The Progenitors abandoned the galaxy to the newcomers, leaving relics behind as monuments to their failure. Humanity spread to the stars and ran headlong into the established races…
Touch of Darkness by Delta James
Paranormal Romance, 4.6 stars, 292 reviews
Skylar Gautier doesn't give a crap about her fated mate. Defying her father to become a New Orleans cop, the wolf shifter ignores her heritage to focus on hunting down crooks. But as she tracks a sadistic killer, she butts heads with a stubbornly sexy guy who has claimed for years he's her protector. Travis Nichols traded glory for a chance at a soulmate. The talented chef could have been pack leader until he set his sights on ensuring the safety of his gorgeous destined partner. But since he craves a forever with a shot of lasting, he'll have to stop the headstrong beauty from getting herself killed in the line of duty…
Fatal Fixer Upper by Maggie Shayne
Romance, 4.4 stars, 169 reviews
Kiley's made a name for herself with her column debunking new-age fortune tellers, mediums, and psychics. Her small New Englandish town is known for its hauntings, so the charlatans abound. Her nemesis eludes her…Jack McCain is the one she's never been able to trip up. He's the smoothest con of them all with his good looks, quick wit, natural charm. She even enjoys the game they're playing, her trying to trick him, him always a step ahead of her. They've become best enemies…
Assassin (Darkblade Book 1) by Andy Peloquin
Fantasy, 4.3 stars, 2393 reviews
All in Voramis know the legend of the Hunter.
Relentless. Immortal. Death walking. The greatest assassin who ever lived. Pay the master killer his due and the Hunter will execute any target, carry out any contract, no matter how impossible. But when the Bloody Hand crime syndicate harms the innocents under his protection, they foolishly make an enemy of the one man they can't afford to anger. The price of the Hunter's vengeance is high—paid in blood and eternal damnation. Not even an army of crooks, cutthroats, and demonic creatures of nightmare can stand in his way.
Indelible by Laurie Buchanan PhD
Thriller/Mystery 4.4 stars, 230 reviews
When a sniper killed his partner, Sean McPherson was injured in the ambush. Now an ex-cop, he takes a job at a writing retreat in the Pacific Northwest. At Pines & Quill, he hopes to heal and put his life back together in the Zen-like capacity of groundskeeper and all-around handyman. Sniper, Jason Hughes, blames McPherson for the loss of more than ten million dollars' worth of heroin—and he wants revenge…
The View from Infinity Beach by R.P.L. Johnson
Science Fiction, 4.5 stars, 36 reviews
Can I show you a new world? Can I show you how it breaks? They call it the Kera: a secret Eden, far from the overcrowded Earth where the air is clean, and summer comes every afternoon at the touch of a button. A new wilderness, deep in the asteroid belt where Kade Morton, teenaged migrant from Earth, can start over. But he has found one flaw in paradise… It's fragile. Humanity stands on the brink of its next great adventure, but the forces of old Earth are not about to let that happen. Forced to choose between his friends and the fate of a new world, can Kade really destroy the only future he's found worth fighting for?
Letters From a Patchwork Quilt by Clare Flynn
Historical Fiction, 4.3 stars, 869 reviews
In 1875, 18-year-old would-be poet, Jack Brennan, runs away from home to avoid being pushed into the priesthood. Jack lands the teaching job he's always dreamed of and meets the love of his life, Eliza Hewlett. But his dreams are shattered when Mary Ellen, his wealthy landlord's daughter, falsely accuses him of fathering the child she is expecting. Jack and Eliza decide to flee to America. As they are about to sail, Jack is arrested and dragged from the ship, leaving Eliza alone en route to New York with only a few shillings in her pocket…