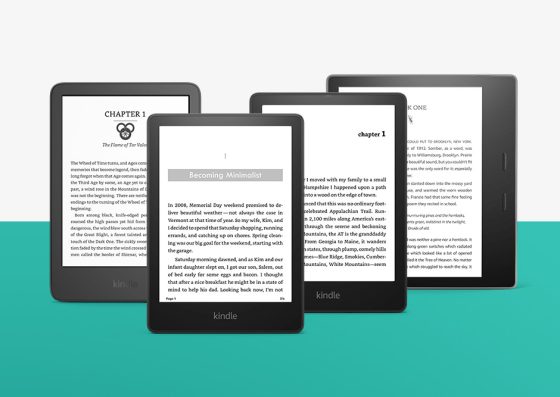 Here's another list of 10 free highly-rated Kindle ebooks to help get the week off to a good start.
Unfortunately Amazon already ended their sale on the Kindle Scribe and Kindle Paperwhite, but they added a coupon code to get a $25 ebook credit when purchasing a new Kindle Scribe or Kindle Scribe Essentials Bundle. Just use code 25SCRIBE during checkout.
Please keep in mind the free Kindle books listed below are free as of March 27th, 2023. Most of these titles are free for a limited time only and will expire in the next few days or hours before going back to the regular list price.
A good place to find more free Kindle books is on the free bestsellers list at Amazon (but for some reason the list only appears on the desktop version of the site, not the mobile version).
You don't need to own a Kindle ebook reader or a Fire tablet to read these free ebooks; you can use free Kindle reading apps for iPad, iPhone, and Android devices, or use a computer or web browser.
Subscribe to The eBook Reader Blog to keep updated on future free ebooks posts, along with ebook reader news, reviews and how to guides, or you can follow this site on Facebook and Twitter to get updates.
Kindles Deals
Kindle Scribe – Get $25 ebook credit with purchase of a new Kindle Scribe or Kindle Scribe Essentials Bundle; use code 25SCRIBE during checkout.
Get up to 40% off Kindle Unlimited subscription
Kindle Unlimited Promos – Offers vary by account
Amazon First Reads – Free eBooks for Prime Members
Get 20% off New Kindle with Trade-in
10 Free Kindle eBooks
One Last Step by Sarah Sutton
Mystery, 4.4 stars, 9297 reviews
Two hikers go missing along the Appalachian Trail, leaving only a bloodstained forest behind them, and when another hiker collapses on someone's porch in New Hampshire, murdered by crossbow, the local police realize they have a serial killer on their hands––and need to call in the FBI. FBI Agent Tara Mills is young, brilliant and new to the force. With a promising career in front of her, she faces the ultimate test when she is assigned the case. It soon proves to be more challenging than she ever could have imagined––an impossible riddle that leaves even her seasoned partner stumped…
Frozen In Ice by Cynthia Eden
Romance, 4.6 stars, 1015 reviews
Delilah "Lila" Darrow doesn't belong in the world of the rich and famous, but for one night, she's going to wear the fanciest dress she can find and pretend that she does. Her plan—get close to reclusive billionaire Archer Radcliffe and find out…is he a murderer? She knows exactly what Archer likes. She knows how to slip beneath his guard. She knows how to make him fall for her. With the right tools, Delilah believes she can finally make Archer pay for the crime he committed so long ago…
Greed by C. M. Sutter
Thriller, 4.3 stars, 8842 reviews
Washburn County Deputy Amber Monroe is following in the footsteps of her sister, Jade. She devours everything she can during her detective training in hopes of being promoted soon. Living in small-town USA has its advantages, like a sense of security, and disadvantages, like being close to Milwaukee and its crime. Washburn County has become the dumping ground of murder victims, courtesy of its neighboring county to the south. When two men are discovered on the outskirts of North Bend, each with a bullet to the head, Amber's team, led by Lieutenant Jack Steele, hits the highway in search of a killer…
Exploited Blood by R S Merritt
Science Fiction, 4.4 stars, 306 reviews
It's already too late for most of us. Walking around with bio-bombs ticking away in our bloodstreams. Bombs that are synchronized to go off together. Before you know it you're diving into the deep end of depravity. A pool of insanity you're never coming back from. Surfacing once or twice to witness the horrors you've caused before your soul takes a deep breath and disappears forever…
On the Run by Joseph Flynn
Thriller, 4.5 stars, 483 reviews
In the summer of 1941, Sergeant Dan McGill did the unthinkable, something no Chicago cop was ever supposed to do. He refused to go on the Mob's payroll. Refused to become one of organized crime's stooges in blue. If the Mob let something like that go unchallenged, it'd be the end of them. So McGill had to go. Six feet under. Only the Mob made a serious mistake. The boss decided Charlie Hart, Dan's best friend and the crooked police lieutenant who'd been given the task of roping Dan in, had to die, too. That was the price Charlie had to pay for failing to make Dan knuckle under…
The House at Magpie Cove byKennedy Kerr
Romance, 4.3 stars, 3559 reviews
When Mara Hughes inherits her late mother's tumbledown beach house overlooking the bright, sandy sweep of Magpie Cove, it couldn't have come at a worse time. With her marriage on the rocks and her husband threatening to take the family home, the beach house – with all the bittersweet memories it holds – might be the thing that finally sends Mara's world crashing down around her. She tells herself she'll only spend a few days there: sell it and move on to rebuilding her life…
A House on Liberty Street by Neil Turner
Thriller, 4.5 stars, 362 reviews
Meet Tony Valenti. His high-flying corporate law career just cratered. His society marriage blew up in a bitter divorce. He's returned to the Chicago suburbs to lick his wounds and regroup in the haven of the Valenti family home. But time to heal isn't in the cards. Tony's elderly father inexplicably shoots a sheriff's deputy on their front porch. Nobody knows why, and Papa isn't talking. Then their house becomes an unlikely target for condemnation and expropriation by corrupt local officials and their cronies…
Herbs and Homicide by Carly Winter
Mystery, 4.5 stars, 471 reviews
After her husband's brutal killing and her fall from the Hollywood elite, the disgraced Samantha Rathbone moves to Heywood hoping to forget her past and live a quiet life of anonymity as Sam Jones. When she takes a job at the local herbal shop, Sage Advice, and the owner is found murdered, Sam is pushed back into the unwanted spotlight when she becomes the number one suspect. As she wades through ugly family drama, the questionable business practices of others, and the lies embroiled in a small town, she searches for the true killer, hoping to save herself…
Song of the Summer King by Jess E. Owen
Children's eBooks, 4.6 stars, 741 reviews
As the last of his kind in a gryfon pride ruled by the conquering Red Kings, Shard has always known his destiny is merely to survive. He must strive to keep up with larger, stronger, crueler gryfons in order to earn his place as a warrior, or face exile. While on the dangerous initiation hunt that will either make or ruin him, Shard desperately takes the unexpected advice of a strange she-wolf who seeks him out, and hints that Shard's past is not all that it seems…
AJIN: Demi-Human Vol. 1 by Miura Tsuina, Sakurai Gamon
Manga, 4.7 stars, 689 reviews
High school student Kei Nagai is struck dead in a grizzly traffic accident, but immediately revives to learn that he may not be like every other human. Instead, he may be a mysterious almost immortal being granted not only the powers of rejuvination but the abilities to see super-natural beings. Scared, he runs away, and is aided in his escape from society by his friend. Unfortunately for Kei, the manhunt is on and he will soon be caught within a conflict between mankind and others like him as they prepare to fight a new war based on terror.