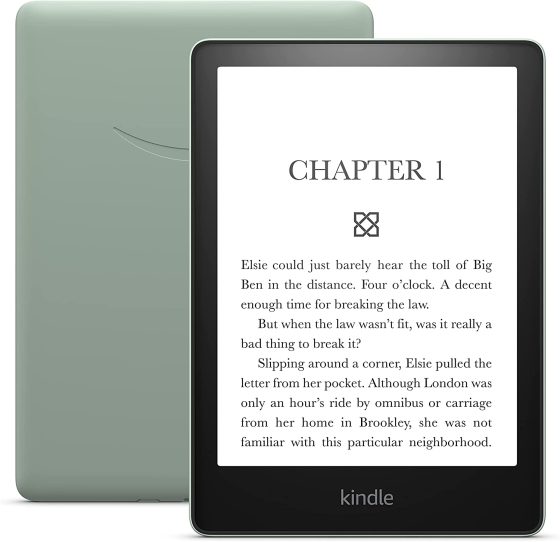 Here's a list of 10 free highly-rated Kindle ebooks for the holiday weekend.
Amazon also still has all versions of the Kindle and Kindle Paperwhite on sale, but I think today is the last day of the sale. They also have a list of Kindle ebooks on sale today only.
Please keep in mind the free Kindle books listed below are free as of April 9th, 2023. Most of these titles are free for a limited time only and will expire in the next few days or hours before going back to the regular list price.
A good place to find more free Kindle books is on the free bestsellers list at Amazon (but for some reason the list only appears on the desktop version of the site, not the mobile version).
You don't need to own a Kindle ebook reader or a Fire tablet to read these free ebooks; you can use free Kindle reading apps for iPad, iPhone, and Android devices, or use a computer or web browser.
Subscribe to The eBook Reader Blog to keep updated on future free ebooks posts, along with ebook reader news, reviews and how to guides, or you can follow this site on Facebook and Twitter to get updates.
Kindle Deals
Kindle eBooks Sale – 4/9 only
Kindle (2022) – $79.99 ($20 off)
Kids Kindle – $79.99 ($40 off)
Kindle Paperwhite 5 – (8GB) $99.99 ($40 off)
Kindle Paperwhite 5 – (16GB) $109.99 ($40 off)
Kindle Paperwhite Kids – (8GB) $109.99 ($50 off)
Kindle Paperwhite Kids – (16GB) $119.99 ($50 off)
Kindle Paperwhite Signature Edition – $139.99 ($50 off)
Kindle Scribe – Get $25 ebook credit with purchase of a new Kindle Scribe or Kindle Scribe Essentials Bundle; use code 25SCRIBE during checkout.
Get up to 40% off Kindle Unlimited subscription
Kindle Unlimited 2 Months Free – Offers vary by account
Amazon First Reads – Free eBooks for Prime Members
Get 20% off New Kindle with Trade-in
10 Free Kindle eBooks
Sweet Saboteur by C. A. Phipps
Mystery, 4.4 stars, 445 reviews
Hounded by deadly gossip, Scarlett's determined not to give in to the pressure to close the family business and she'll do anything to turn things around and give her sisters a better life. Except murder! The shocking death points to the café as the likely cause and Scarlett must put all fears aside to solve the mystery before everything she's fought to keep safe is lost—or worse! Who wants them out of Cozy Hollow bad enough to kill?
Abby Kane FBI Thrillers 1-6 by Ty Hutchinson
Thriller, 4.3 stars, 886 reviews
Meet the agent with an impossible directive: solve the FBI's most baffling cases. Abby Kane spent her early career putting sickos, psychopaths, and ruthless killers behind bars. After her husband's mysterious death, she moved her family to San Francisco, hoping for a fresh start and healing. What she got instead was a job with the FBI. A mutilated body has Corktown residents nervous and for a good reason. Detroit Metro Police recognize the handiwork of the serial killer known as the Doctor. But there's a problem with that…
The Ice Duchess by Tracy Sumner
Historical Romance, 4.5 stars, 887 reviews
Georgiana Whitcomb, Countess Winterbourne, is known as the Ice Countess for her rebellious ways and refusal to marry again. But a scandalous Christmas wager fashioned by Georgiana's childhood obsession changes everything. The demanding duke needs a bride… Dexter Munro, mere days from becoming the Duke of Markham, made a promise to his dying father to find a wife by the Twelfth Night. Except the only woman he's ever desired has vowed never to marry again. Not even to become his duchess….
One Giant Leap by Ben Gartner
Children's Science Fiction, 4.8 stars, 41 reviews
I'm pretty sure I'm about to die in space. And I just turned twelve and a half. Blast off with the four winners of the StellarKid Project on a trip to the International Space Station and then to the Gateway outpost orbiting the Moon! It's a dream come true until space junk collides with the ISS, turning their epic trip into a nightmare of survival. Alone aboard the Aether starship, the kids have to work as a team to save the adults before the ISS is destroyed. Suit up, cadet, and launch into adventure with One Giant Leap!
Throwing Shade by Deborah Wilde
Fantasy/Romance, 4.4 stars, 2682 reviews
It's official. Miriam Feldman is killing it in the midlife crisis department. She's mastered boredom, aced invisibility, and graduated Summa Cum Laude in smiling and playing nice in her post-divorce life. Then her best friend gets tangled up with some vamps and goes missing. If that's not scary enough, Miri snaps, and in a cold dark rage, unleashes a rare and powerful shadow magic. Now, with only a mouthy golem and a grumpy-yet-sexy French wolf shifter to help her navigate this world of hidden magic, she's in a race against time to rescue her friend and keep her loved ones safe from the skeletons in her past…
Reservoir Man: The Disappearance Of Tommy Dwyer by Arno Zimmer
Mystery, 4.4 stars, 39 reviews
It was 1939, two years before Pearl Harbor catapulted America into WWII, when a young soldier vanished at an Upstate New York reservoir.
Forty-six years later, private eye Woody Meacham, as the request of his ailing stepfather, investigates the disappearance of distant cousin Tommy Dwyer, only to be thwarted by a powerful, megalomaniacal industrialist who sees himself as a political kingmaker in the tradition of JFK's father. Meacham's life is threatened as he uncovers evidence of Dwyer's secret activities leading up to the war…
One Left Alive by Helen Phifer
Thriller, 4.4 stars, 6218 reviews
A gentle breeze blew her blonde hair across her face, her glazed eyes staring blankly into the sunset. Her small frame looked lost hanging from the large oak tree. On the branch next to her was a worn child's rope swing. She looked too young and beautiful to be dead. When the body of a woman is found hanging from a tree in her front garden, rookie Detective Morgan Brookes is first on the scene. But Olivia Potter is past saving. And when her husband and daughters cannot be traced, Morgan knows there is more to this tragedy. And then she finds them. Lying huddled together in the dark basement, each of their faces covered with a small cotton cloth, their bodies cold to the touch…
The Fall of Man by J.V. Roberts
Science Fiction, 4.3 stars, 108 reviews
After the bombs fell and the old world passed away, two sides emerged from the destruction: the Union and the Rebels. For years a great civil war raged, ending in a fragile truce. Now the Lord Marshal of the Union seeks to unite the land, this time using chests of coin rather than bullets. Dominic was one of the finest Rebel soldiers to grace the battlefield. With the war at an end, he sets off across the Wastes, seeking a new life. But after a violent clash with the Union, he finds himself a reluctant participant in the Lord Marshal's push for peace. Dominic is paired up with Lerah, an idealistic young soldier with no love for the Rebels. Their unlikely partnership takes them to the most dangerous parts of the Wastes. As tensions mount and blood begins to flow, friends become enemies, and allegiances begin to melt away.
City of Storms by Kat Ross
Fantasy, 4.4 stars, 259 reviews
In a world with three layers of ever darker magic, few dare to wield the most dangerous. And those who try can fall prey to violent madness. The Church keeps a tight leash on its citizens. It tests every child for psychological deviancy. If you pass, you're given a Mark. A tattoo that lets you use the ley power—and shields you from your most primal desires. For the lucky ones, the world is at their feet. The rest suffer a life of menial jobs and hopelessness…
The New Teacher by Erin Lark Maples
Mystery, 4.5 stars, 418 reviews
Elizabeth Blau upended her life in the city to move to the Middle of Nowhere and start over. She reconnects with her estranged brother and begins her new life. First, Elizabeth lands a great job, then a date, and her luck seems to change for the better. But when the man's body is found mangled in a ravine, the murder rocks the small town as fault descends upon the Blau Family. Frustrated with the pace of local law enforcement, Elizabeth investigates loose threads among the ranchers…