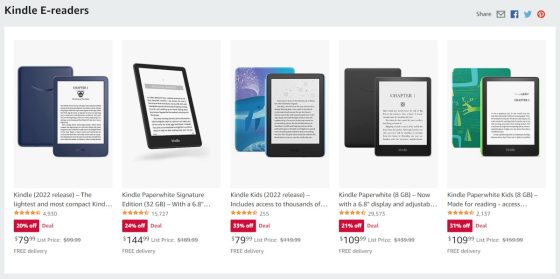 Every year Amazon puts Kindle ereaders and Fire tablets on sale for the week leading up to Mother's Day, and this year is no exception.
All versions of the Kindle Paperwhite and 2022 Kindle are being discounted by $20-$50, including the kids bundles, where are actually the best deals of the week if you don't want the free Kindle Unlimited trial that comes with standard Kindles.
The Kindle Scribe is also still on sale at its lowest price ever for Prime members, but that seems to be unrelated to the Mother's Day sale so it might not last all week. However, Amazon has added a Mother's Day coupon code, SCRIBE4MOM, to get a $25 ebook credit when purchasing the Kindle Scribe.
Amazon's official covers for the Kindle Paperwhite and 2022 Kindle are on sale as well, and so is the brush print leather cover for the Kindle Scribe.
Amazon has a list of Kindle ebooks on sale today too, but it's a 1-day only sale for May 7th.
Here's the full list of Kindle deals below. Unfortunately the Kindle Oasis isn't on sale this time; I think Amazon has forgotten that it still exists.
Kindle Sales List
Kindle (2022) – $79.99 ($20 off)
Kids Kindle – $79.99 ($40 off)
Kindle Paperwhite 5 – (8GB) $109.99 ($30 off)
Kindle Paperwhite 5 – (16GB) $114.99 ($35 off)
Kindle Paperwhite Kids – (8GB) $109.99 ($50 off)
Kindle Paperwhite Kids – (16GB) $119.99 ($50 off)
Kindle Paperwhite Signature Edition – $144.99 ($45 off)
Kindle Scribe – $282.99 ($57 off) Prime Exclusive Deal; use code SCRIBE4MOM to receive a $25 ebook credit
Kindle Covers on Sale
Kindle (2022) Fabric Cover – $24.99 ($5 off)
Kindle Paperwhite Fabric Cover – $26.99 ($8 off)
Kindle Paperwhite Leather Cover – $33.99 ($10 off)
Kindle Paperwhite Cork Cover – $37.99 ($12 off)
Kindle Scribe Brush Print Leather Folio Cover – $65.99 ($25 off)