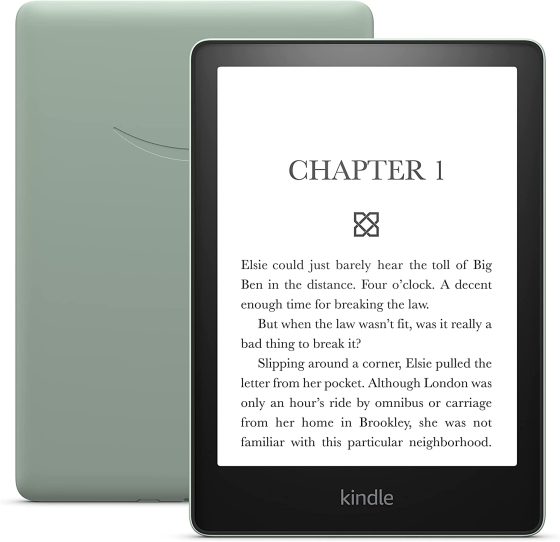 Here's a list of 10 free highly-rated Kindle ebooks for Mother's Day weekend.
Amazon also still has all versions of the Kindle and Kindle Paperwhite on sale, along with covers, but today is the last day of the sale. They also have a list of Kindle ebooks on sale today only, and there's an offer to get 400 bonus points when spending $20 on Kindle ebooks.
Please keep in mind the free Kindle books listed below are free as of May 14th, 2023. Most of these titles are free for a limited time only and will expire in the next few days or hours before going back to the regular list price.
A good place to find more free Kindle books is on the free bestsellers list at Amazon (but for some reason the list only appears on the desktop version of the site, not the mobile version).
You don't need to own a Kindle ebook reader or a Fire tablet to read these free ebooks; you can use free Kindle reading apps for iPad, iPhone, and Android devices, or use a computer or web browser.
Subscribe to The eBook Reader Blog to keep updated on future free ebooks posts, along with ebook reader news, reviews and how to guides, or you can follow this site on Facebook and Twitter to get updates.
Kindle Deals
Note: The sales on Kindle ereaders ends today, April 14th.
Spend $20 on Kindle ebooks, get 400 bonus points – Offer must be activated first, ends in 3 days
Kindle eBooks Sale – 5/14 only
Kindle (2022) – $79.99 ($20 off)
Kids Kindle – $79.99 ($40 off)
Kindle Paperwhite 5 – (8GB) $109.99 ($30 off)
Kindle Paperwhite 5 – (16GB) $114.99 ($35 off)
Kindle Paperwhite Kids – (8GB) $109.99 ($50 off)
Kindle Paperwhite Kids – (16GB) $119.99 ($50 off)
Kindle Paperwhite Signature Edition – $144.99 ($45 off)
Kindle Scribe – Use code SCRIBE4MOM to receive a $25 ebook credit
Kindle Covers on Sale
Kindle (2022) Fabric Cover – $24.99 ($5 off)
Kindle Paperwhite Fabric Cover – $26.99 ($8 off)
Kindle Paperwhite Leather Cover – $33.99 ($10 off)
Kindle Paperwhite Cork Cover – $37.99 ($12 off)
Kindle Scribe Brush Print Leather Folio Cover – $65.99 ($25 off)
Other Kindle Deals
Get up to 40% off Kindle Unlimited subscription
Kindle Unlimited 2 Months Free – Offers vary by account
Amazon First Reads – Free eBooks for Prime Members
Get 20% off New Kindle with Trade-in
10 Free Kindle eBooks
Over My Dead Husband's Body by Etta Faire
Mystery, 4.4 stars, 795 reviews
As a 30-something-year-old living in her mother's basement after her divorce, Carly Taylor never considered herself particularly lucky… until her ex-husband died and left her his house. She couldn't wait to move into the Victorian mansion in the picturesque lakeside town of Landover, Wisconsin. But, as soon as she unpacked her stuff and got comfy, she realized why she got the inheritance. Her ex-husband's ghost is hovering in her living room, haunting the place, and wanting her to solve his murder…
The City by S.C. Mendes
Horror, 4.3 stars, 535 reviews
Chinatown, 1910. A series of ritualistic murders are discovered six months after Max Elliot turned in his badge. Victims of the media-dubbed "Chinatown Surgeon" are little more than piles of flayed skin. The bones of each body were stolen. This torturous method of execution had only been seen once before and that case remained unsolved. Confident of a connection between the grisly crimes, police turn to the one man they believe can help…
A Lesson in Trust and Hope by Ellen Knightley
Historical Romance, 4.4 stars, 228 reviews
Carlie Ellis had never thought of leaving her hometown, and by doing so, hindering her relationship with her parents. Still, starting a family and a new life in New York had brought her so much happiness, she wouldn't have it any other way. Yet Carlie's bliss would come to an abrupt end, after losing her husband suddenly. Left with no other option, there was only one place for her and her daughter, Josie, to return to; her family home. Amid mourning and reconciling with her parents, Carlie cannot even begin to think about the future, let alone finding love again…
The Glitch Guardians by Dr. Block
Children's Fantasy, 4.8 stars, 1061 reviews
The Glitch Guardians are one of the most secretive groups in all the world. They have been hunting and destroying glitches for hundreds of years, but few know anything about them. But, it wasn't always that way…. In this new series from Dr. Block, the Glitch Guardians for the first time open their robust historical archives to outsiders. They have worked with Dr. Block to ensure that their story is told fairly and accurately. Read this first book in the Tales of the Glitch Guardians to learn about how this group came to be.
Hidden Devotion by Lila Dubois, Mari Carr
Romance, 4.5 stars, 434 reviews
She fell in love with her fiance. Normally that wouldn't be a problem, but Juliette Adams didn't pick Devon Asher. She's been engaged to him since she was a child–a modern day betrothal that she thought was wildly romantic. Until Devon broke her heart. If her life was normal, Juliette could end the engagement. But as a legacy member of America's oldest and most powerful secret society, Juliette is destined for a trinity marriage arranged by the society's secretive leader–the Grand Master–who just happens to be Juliette's brother…
Mother by Alistair Cross, Tamara Thorne
Horror, 4.4 stars, 137 reviews
Priscilla Martin. She's the diva of Morning Glory Circle and a driving force in the quaint California town of Snapdragon. Overseer of garage sales and neighborhood Christmas decorations, she is widely admired. But few people know the real woman behind the perfectly coiffed hair and Opium perfume. No one escapes Prissy's watchful eye. No one that is, except her son, who committed suicide many years ago, and her daughter, Claire, who left home more than a decade past and hasn't spoken to her since…
A Duke to Elude by Wendy May Andrews
Romance, 4.4 stars, 2266 reviews
Lady Rosabel, eldest daughter of the Earl of Sherton, has no interest in being a Duchess, despite countless proposals from eligible nobility. Secretly, she is waiting for a love match—preferably with someone who carries no title. Bel's third Season is predictably disappointing until the mysterious Duke of Wexford arrives and has her questioning her plans to refuse any suitor with his status. James Allingham, the 6th Duke of Wexford, seems to have inherited the role as advisor to the ailing King along with the dukedom…
Fraulein: Struggle for Identity by Jeffrey T Leonards
Historical Fiction, 4.6 stars, 116 reviews
BRILLIANT, YOUNG AND AMBITIOUS, Annika Tritzchler defies the norms of 1930s Berlin by pursuing medical training in a venue traditionally dominated by men. Facing contempt from her counterparts is minor compared to the massive upheaval in a city transitioning to dictatorship while brutally persecuting its enemies. Annika's career takes a decisive turn when, early in her psychiatric residency, she is expected to participate in applied eugenics- the roguish trend within Nazi medicine…
The Nothing Within by Andy Giesler
Science Fiction, 4.5 stars, 251 reviews
Root is…different. Though raised in a fearful society that reveres tradition and conformity, she's irreverent, outspoken, and deeply curious. Her blindness sets her even further apart. Centuries after the Reckoning, a global biotech plague, savage chimeras still threaten human survival. After Root hears a voice that no one else can hear, she flees into the wilderness. Outcast and hunted, she must confront a dire threat to her people–and unravel the mystery of who she really is.
The Things you find in Rockpools by Gregg Dunnett
Thriller, 4.4 stars, 8370 reviews
When a teenage girl disappears from a beach town at the height of summer, a huge police search fails to uncover her fate. So Billy Wheatley steps in to solve the case. At eleven years old, he's a little young to play detective, but no one knows more about the empty sands, windswept cliffs and hidden caves of his island home. What's more, he was there that night. Billy's style of investigation is unlike anything you've read before. He's soon caught within a complex web of lies and family secrets…