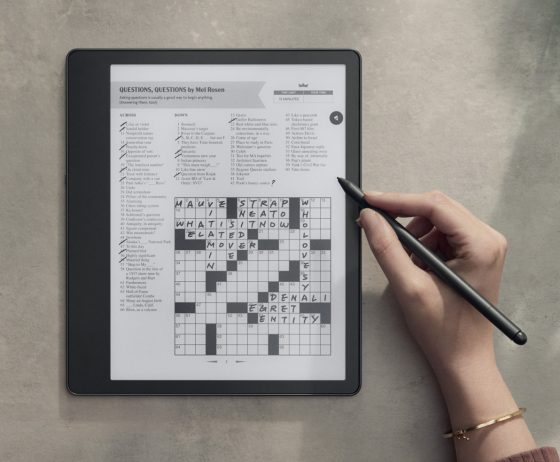 When Amazon released the latest software update for the Kindle Scribe on May 22nd, they started advertising "write-on ebooks" that are available in the Kindle store for the Scribe that support writing directly on the page.
Most of the write-on titles are crossword puzzles and sudoku puzzles., and there are some guided journals as well.
I've seen a bunch of people posting pictures online of doing crosswords on the Kindle Scribe so it's not surprising to see Amazon starting to push crosswords and sudoku puzzles as a new type content that's compatible with the Kindle Scribe thanks to its stylus support.
The only problem so far is Amazon doesn't have a very wide selection. Currently there's only 16 write-on crosswords for the Kindle Scribe and 28 write-on sudoku puzzles, and the prices seem a little on the high side.
But you aren't just limited to buying crosswords and sudoku from Amazon. You can also use Send to Kindle to send crosswords and sudoku puzzles to the Kindle Scribe from anywhere you can get them in PDF format.
It's worth noting that you have to use the Send to Kindle option in order to write on PDFs that you send to the Kindle Scribe; PDFs sideloaded via USB don't support handwriting.
A lot of sites have free sudoku and crosswords available to download in PDF format. Here are a couple of options below:
Free Crossword Puzzles
There are thousands of free crosswords available from The Guardian, with more getting added every day. Just hit the PDF version link at the top of each crossword and then send it to your Kindle Scribe.
Free Sudoku Puzzles
If you're looking for some free sudoku puzzles for the Kindle Scribe, several thousand are available to download in PDF format for free from the Krazydad website, and you can choose them based on difficulty level.