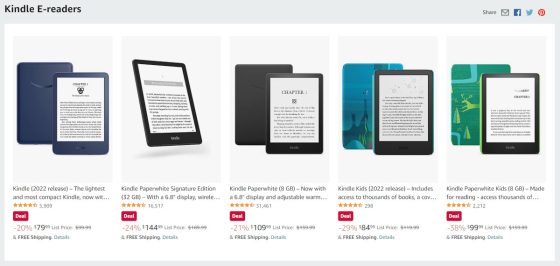 If you're looking to buy a new ebook reader, now is a good time to get one at a discounted price. Amazon, Kobo, and Barnes and Noble all have ereaders on sale right now.
Amazon has the Kindle and Kindle Paperwhite on sale. The best deal is the kids version of the Kindle Paperwhite for $99. And Amazon has a list of Kindle ebooks on sale today only as well.
Kobo has the 7-inch Libra 2 on sale, and the Kobo Elipsa Pack is still $50 off, but it's not really a "sale" at this point since that seems to be the new price now with the Elipsa 2E out. They also have a deal on their website where you can get 50% off a sleepcover when purchasing the Kobo Clara 2E. That basically amounts to getting $15 off so it's not a great deal by any means, but that's how Kobo rolls.
B&N also has their Nook ereaders on sale. The 4e is always on sale but the regular Glowlight 4 is also being discounted by $20.
Once again Amazon's pricing makes no sense whatsoever. The kids version of the Kindle Paperwhite is $10 less than the standard version, and it's the exact same Kindle.
The kids version comes with a cover and upgraded 2-year warranty, plus it's ad-free, so it's clearly the better deal by far. The only difference is the kids version doesn't have the option to add 3 months of Kindle Unlimited for free; it's comes with a 1-year subscription to Amazon Kids+ instead, which you don't have to redeem if you'd rather use it as a regular Kindle.
Kindles On Sale
Kindle Paperwhite 8GB – $109.99 ($30 off)
Kindle Paperwhite 16GB – $114.99 ($35 off)
Kindle Paperwhite Kids – $99.99 ($60 off)
Kindle Paperwhite Signature Edition – $144.99 ($45 off)
Kindle – $79.99 ($20 off)
Kindle Kids – $84.99 ($35 off)
Kobo eReaders On Sale
Kobo Libra 2 – $169.99 ($20 off)
Kobo Elipsa Pack – $349.99 ($50 off)
Kobo Clara 2E – Get 50% off Sleepcover with purchase
Nooks On Sale
Nook Glowlight 4 – $129.99 ($20 off)
Nook Glowlight 4e – $99.99 ($20 off)