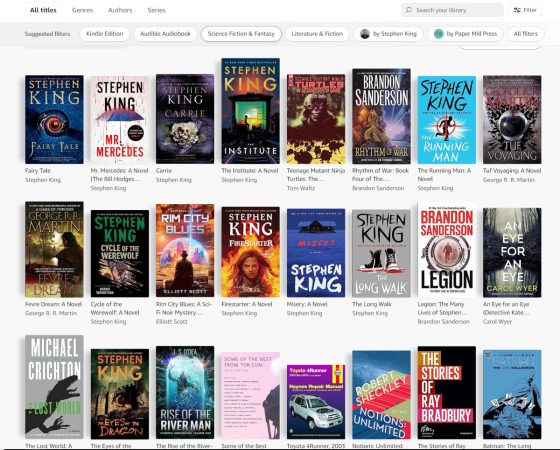 Amazon has started rolling out a new page on their website that lists all the books and audiobooks that you've purchased from Amazon. Both print books and ebooks are included, and there are a bunch of different filtering options.
When you click on a title, it brings up a window showing the overview with a description of the book, along with the book details, and there's the option to view the sample of both the ebook and audiobook (if available). At the bottom of the window customer reviews are listed. There's also a tab with purchasing options, and another tab to view similar titles.
At the bottom of the page, there's an endless list of recommendation based on your library, with various filtering options, and there's also a Discovery mode that can be toggled on and off to view more recommendations.
One thing about the new webpage is there isn't any way to view documents that you've sent to your Kindles; it only shows purchased content.
The webpage is still in the Beta phase, and apparently it's not available for everyone.
When you first visit the page, there's a series of popups that explain how things work:
Find all of your Amazon books in one place. Your Kindle, Audible, and print titles will appear in the Library tab.

Turn on Discovery mode to get recommendations based on your books. Set Preferences to control what's recommended to you.

View your books individually; or group them by genre, author, or series.

Browse, compare, and shop the books you've added across your Amazon Wishlist(s) in the Saved Books tab.
There aren't nearly as many options available on this new page as the Manage Your Content page at Amazon, so I'm not really sure what purpose it serves, other than Amazon finding yet another way to show more recommended titles.