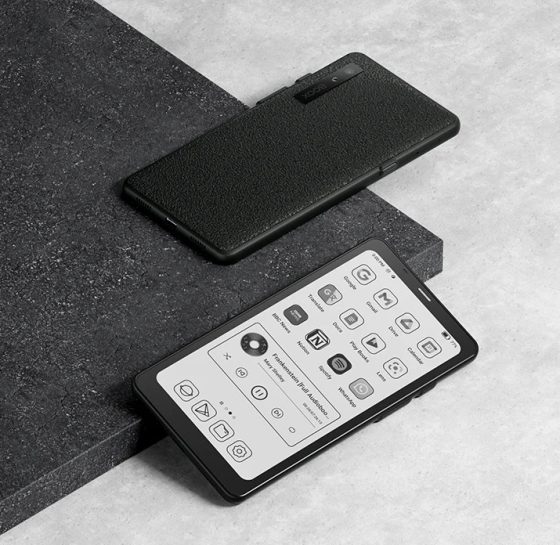 About a week ago Onyx released a new hybrid device called the Boox Palma, but it was an "Early Adopter Edition" that was only available for a few hours before it sold out so I didn't post an article about it.
Onyx is apparently trying to determine if there's a market for smaller phone-sized reading devices. The Palma looks more like a phone than an ereader, but it's kind of an odd device because it doesn't actually have a SIM card slot so it can't be used as a phone.
Instead of going the E Ink phone route, as Onyx once planned to do, it looks like they're playing the "no distractions" card instead. A properly working E Ink phone would probably have a wider appeal, but maybe they're saving that for later.
Either way, the Palma has a 6.13″ E Ink screen with 300 ppi, but the screen ratio is more like a phone than an ereader so it's over an inch narrower than a typical 6″ Kindle (the Palma measures 6.3″ x 3.1″ x 0.31″ and the 2022 Kindle is 6.2″ x 4.3″ x 0.32″).
The device has a decent list of specs as well, and it even has a rear camera and LED flash like a real phone, but since it was just a prototype that's no longer for sale there's really no use getting too deep into that.
It'll be interesting to see where Onyx goes with these phone-sized E Ink devices moving forward. I'm not sure how many people are going to want to carry around another device that looks like a phone but isn't. And E Ink phones have struggled to gain much traction in the market, as there are a number of limitations with E Ink screens, like not being able to play videos very smoothly.
I'd really like to see some smaller ereaders coming back on the market again. Ten years ago devices like the Kobo Mini and Sony PRS-350 were great pocketable options, but these days everything is trending larger.
What about you? Would you have any interest in a phone-sized ereader like the Palma?