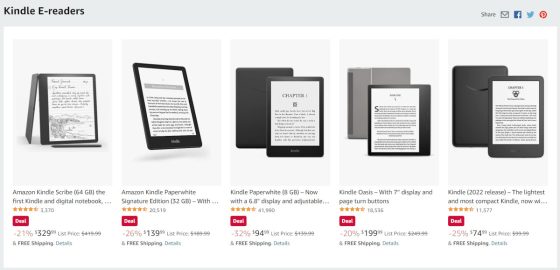 Amazon is running another sales event called Prime Big Deals Days on October 10th and 11th, so of course all Kindle ereaders are on sale again, and a Prime membership isn't required to get in on these deals, although there are some Prime Exclusive deals on bundles.
The prices aren't quite as low as they were for this past Prime Day, but you can still get some really good prices on Kindles, and you can also get 10% back when paying with a Prime card. I would consider the Kindle Paperwhite the best deal of the bunch at $95, and the price of the Kindle Scribe is really reasonable too if you want a large Kindle that doubles as a digital notebook.
Amazon also has some Kindle accessories on sale, and I think the Kindle Unlimited 3 months free deal is still active too.
Amazon is also offering triple rewards points as part of their Kindle Rewards Beta program on October 10th so you can earn 3x the points when buying Kindle ebooks, and this is not limited to Prime members.
If you want to get in on the Prime Exclusive deals you can sign up for a free trial of Amazon Prime if you're not already a Prime member so anyone can take advantage of the deals.
Keep in mind you can also trade-in an old Kindle to get an additional 20% off the sale prices.
See the Prime Deals page at Amazon for an updated list of deals.
Kindle Scribe Deals List
Kindle Scribe 16GB with Basic Pen – $264.99 ($75 off)
Kindle Scribe 16GB with Premium Pen – $289.99 ($80 off)
Kindle Scribe 32GB with Premium Pen – $304.99 ($85 off)
Kindle Scribe 64GB with Premium Pen – $329.99 ($90 off)
Kindle Scribe Accessories
Kindle Scribe Premium Pen – 12% off
Kindle Scribe Basic Pen – 10% off
Kindle Scribe Pen Replacement Tips – 13% off
Kindle Oasis Deals
Kindle Oasis 3 – $199.99 ($50 off) 8GB model
Kindle Oasis 3 – $219.99 ($60 off) 32GB model
Kindle Oasis 3 – $289.99 ($60 off) 32GB model with 4G LTE
Kindle Paperwhite Deals
Kindle Paperwhite 5 – $94.99 ($45 off)
Kindle Paperwhite Kids – $109.99 ($60 off)
Kindle Paperwhite Signature Edition – $139.99 ($50 off)
Kindle 2022 Deals
Kindle – $74.99 ($25 off)
Kids Kindle – $79.99 ($40 off)
Kindle Unlimited
3 Months of Kindle Unlimited for free (existing subscribers excluded)
Get up to 40% off Kindle Unlimited subscription
More Deals