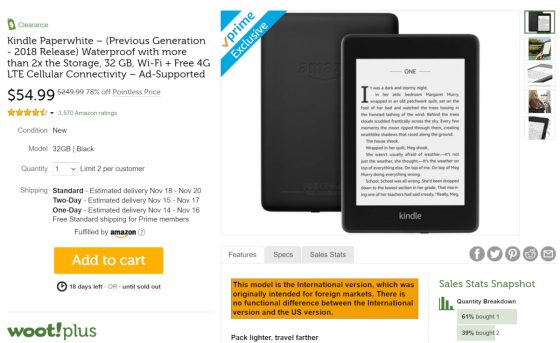 Here's an interesting deal for those looking for a Kindle with cellular connectivity.
Woot has the Kindle Paperwhite 4 in new condition with 32GB of storage and 4G LTE cellular connectivity for $54.99. The only catch is it's a Prime Exclusive deal so you need an Amazon Prime membership to get access to the offer.
It's the previous generation Kindle Paperwhite model with a 6-inch screen from 2018. The cellular model originally sold for $249.99 so being able to get one for only $54.99 is kind of a bargain, that is if you don't mind having a previous generation Kindle.
Amazon no longer offers a cellular version on the current Kindle Paperwhite; the Paperwhite 4 was the last to have that option. They still sell a cellular version of the Kindle Oasis, the only cellular Kindle that Amazon still offers, but it costs a ridiculous $349.99.
If you want a cellular Kindle it's hard to imagine a better deal than this coming along anytime soon, especially considering these are new and not refurbished like most Kindle deals that turn up on Woot.
Keep in mind, unlike early generation models, you can't freely browse the web with modern cellular Kindles; the cellular connectivity only works for Amazon and the Kindle store, and I think Wikipedia.
See my Kindle Paperwhite 4 review for more details about this particular model (not the cellular version, just the generation in general). It doesn't have a warm frontlight like the current Kindle Paperwhite, and the screen isn't quite as nice, but it is waterproof and it has Dark Mode for white text on a black background like the newer models.
The Kindle Paperwhite with cellular connectivity deal ends on December 2nd or until it's sold out. They're limiting purchases to 2 per customer so it might last a little while but these Kindle deals on Woot usually sell out before the end date.