Everest EB-900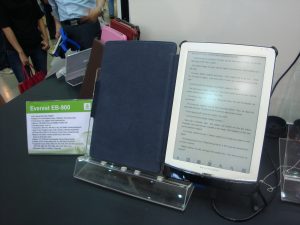 Elitegroup Computer Systems, ECS, is a Taiwanese-based electronics company that makes PC motherboards, laptop and desktop computers, graphic cards, and other electronics.
At Computex 2010, ECS showed off two new ereaders: the 9.7-inch Everest EB-900 and the 8-inch Eliot EB-800.
According to this article at TFTS, the EB-900 (which they call the Everbest; but the picture shows Everest, so I'm inclined to believe the latter) is to be first released in China and Taiwan next month.
Here's a summary of the specs for the Everest EB-900 as shown on the card in the picture.
9.7″ E Ink screen with 1200 x 825 pixel resolution.
16 levels of gray scale.
Digitizer touchscreen with pen.
Wi-Fi 802.11 b/g; 3G/WiMAX, Bluetooth (optional).
Marvell PXA 166e, 800MHz CPU.
1GB NAND flash memory and 256MB LP DDR1-200.
SD card slot.
Micro USB port.
Linux 2.6 operating system.
Built-in 3.5mm headphone jack, speaker, and microphone (optional).
Dimensions: 259 x 172 x 11.6mm.
Supported Formats: EPUB, PDF, MS Office documents, CHM, TXT, RTF, OPF, JPG, PNG, BMP, GIF, TIFF, WMA, AAC, OGG, WAV, FLAC.
Eliot EB-800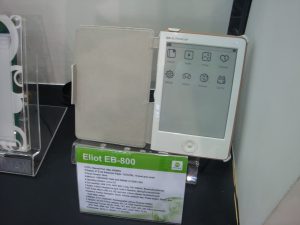 Here's a look at the 8-inch version, the Eliot EB-800. It's not mentioned in the above article. In fact, neither device has very much information available at this point. But they certainly look interesting.
The specs for the Eliot EB-800 shown on the card in the picture are all pretty much the same as the specs for the Everest. The difference is that the Eliot has and 8-inch screen with a pixel resolution of 1024 x 768. And the Eliot doesn't have a touchscreen; it has a 5-way navigation controller instead. The dimensions of the EB-800 are 227 x 150 x 11.6mm.
Update: James Lleverino, the marketing representative for ECS, was nice enough to provide the above images for the two devices and answer some additional questions about them. Apparently, there are no plans to launch the two models in China and Taiwan next month, contrary to what the referenced article stated.
Both the EB-900 and EB-800 are still under development, with a scheduled mass production date set in October.
Furthermore, ECS plans to work more on an OEM/ODM based business model, which means we'll like see these two devices under different brand names, not the Everest and Eliot as they are called now.
No information on price, yet. But we'll keep you updated when we find out more.