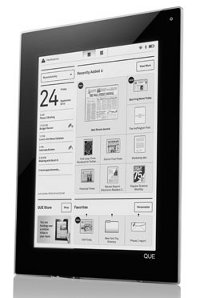 Back on January 7th at the Consumer Electronics Show, Plastic Logic revealed the Que proReader, a large, business-oriented E Ink device. The Que was initially slated to release in mid April, and they were even taking pre-order on the QUE proReader website.
Then on March 11th people who pre-ordered a QUE received an email from the CEO of Plastic Logic, Richard Archuleta, that stated the postponement of the QUE proReader until June 24th, "in order to fine-tune the features and enhance the overall product experience."
Well, the 24th was yesterday and another round of postponement emails went out, saying that they've chosen to delay the device "a bit longer" so that they can improve the product, and that all orders have been canceled.
The email does not mention a new expected release date, and you have to wonder if there ever will be. There were/are two separate models, the Wi-Fi only model was listed at $649 and the 3G model was listed at $799. Quite a tough sale now that the much more versatile Apple iPad is taking over the world, and starts at a much lower $499.
The bottom line is that it took Plastic Logic too long to get their device on the market. Two, maybe even one year ago they may have stood a chance, but not today in this market with ebook readers like the Nook under $150 and new energy efficient color technology just around the corner. A $650 – $800 monochrome device with a limited feature set in this day and age just doesn't make any sense.
Source: Engadget