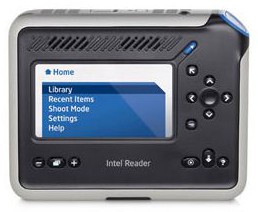 The Intel Reader isn't like any other e-reader on the planet; it is built specifically for the blind and visually impaired, as well as for people with reading disabilities like dyslexia.
Using a built-in high-definition camera, the Intel Reader can take photographs of printed text from books, magazines, newspapers, etc., and can convert the text to audio to read aloud.
It can also create MP3 files from text to transfer to other audio devices, and can even convert the text to digital form to allow magnification on the device's screen or on a computer screen if you transfer the file to your hard drive.
The device is designed to point, shoot, and listen. With large buttons and audio commands for menu operation and navigation, it was made for the blind and those not familiar with electronic gadgets at all.
Another major target market for this device is for people with reading-based learning disabilities. In fact, the mastermind of the Intel Reader program, Ben Foss, grew up with severe dyslexia, and wanted to create a solution to help overcome the disadvantages of not being able to read.
An optional accessories for the Intel Reader is the Intel Portable Capture Station. With the capture station you can setup the Intel Reader to scan an entire 262-page book in a half hour and listen to the first chapter of the book while doing so, according to Foss.
The Intel Reader is far from cheap. It sells for around $1500 from various retailers in North America, the UK, and Ireland. In the United Kingdom it sells from Amazon UK
for £999.
Video Demonstration
Intel Reader Specs
Intel Atom Processor.
4.3″ LCD screen.
6 cell lithium-ion battery gets 4 hours of battery life.
4GB Intel Solid State Drive holds up to 600 processed pages (images and text) with up to 20 pages waiting to be processed or up to 500,000 text-only pages.
Choose between a man's voice and a woman's voice.
Customize the voice speed.
USB 2.0 port and mini USB port.
Dimensions: 6.5″ x 5.35″ x 1.3″.
Weight: 1.38 pounds.
Built-in speakers and headphone jack.
Includes carrying case.