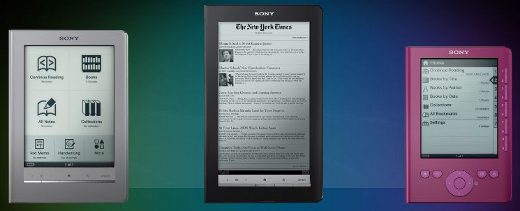 Sony's PR department needs some work. When Barnes and Noble and Amazon both dropped their prices on the Nook and Kindle last week, the internet was ablaze with Kindle and Nook news—and still is, in fact.
But when Sony slashes the prices on their ereaders you could hear a pin drop in a silicone forest.
When the Sony Touch was first released back in August 2009, it retailed for $299. And the Pocket Edition sold for $199. In December, Sony released their first wireless ereader, the PRS-900, for a pricey $399.
Today, all three are listed much lower on many of the major websites—Sony Style, Amazon, Best Buy, etc.—but it goes unnoticed by the main-stream-media. The Touch Edition is down to $169, the Pocket Edition is $149, and the Daily Edition has been at $299 for several weeks now.
So why so little press coverage?
Not sure. But Sony isn't helping themselves out by not issuing press releases about their new prices or promoting the sales more. They aren't even advertising the ereader sale prices on the Sony Style homepage.
The most interesting of the three is the Touch Edition at $130 below its initial selling price and just $20 more than the smaller, feature-lacking PRS-300.
There could be a couple of reasons for this disparity in price.
Perhaps they simply haven't been selling the PRS-600 as well as the 300 and have a larger inventory of them that they need to sell. Or it could mean the PRS-600 has seen its run and Sony is selling it super-cheap to clear inventory to introduce a new 6-inch ereader to take its place.
When Sony decides to release their next ereader, it will most likely be a 6-inch device because that is the most popular size for ebook readers. And the PRS-600 just doesn't quite stack up with the Kindle 2 and Nook feature-wise; a lot of people complain about the reflectiveness of the touchscreen and lack of wireless.
So an updated 6-inch ereader from Sony makes the most sense. Maybe as soon as this month . . .