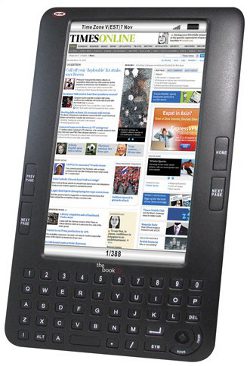 (Update: The full written review for this device is now finished and is located on this new Augen The Book Review page.)
"The Book" has a lot of interesting and advanced features; if everything works as listed on the spec sheet, at $129, this could be a great deal. The only drawback is that the device has a 7-inch LCD (TFT) screen with a pixel resolution of 800 x 480, so it won't have great battery life like E Ink ereaders—the spec sheet says up to eight hours in reading mode, 4-6 using other applications.
The Augen ebook reader is being marketed as an ereader, video player, and word processor rolled into one. It has Wi-Fi built-in, a full web browser, an open-source SDK, and supports Adobe DRM. It comes with a leather cover, 2GB of internal memory, and has an SD card slot for cards up to 32GB.
Here's a look at the owners manual for the Augen ebook reader, via The Shopping Channel.
Interestingly, the manual insinuates that the device comes with Calibre on an install disc to use for managing your ebook library.
Augen "The Book" Specs
Screen: 7″ diagonal 800 x 480 pixels color TFT.
Built-in 802.11 b/g Wi-Fi.
Web browser.
CPU: Ingenic 4755, Arm9 400 Mhz.
OS: Linux 2.6.24.
Open-source SDK.
2 GB internal memory, SD card slot up to 32 GB.
Full QWERTY keyboard.
Includes WordPad for note-taking and text editing.
Text-to-speech supported.
Portrait and landscape modes.
Built-in speaker and headphone jack.
Comes with leather case.
Dimensions: 8.89" x 5.12" x 0.51".
Weight: 10 ounces.
Comes with 150 free classic ebooks.
Text formats: Adobe EPUB and PDF, TXT, HTML, CHM, RTF, FB2, and MOBI/PRC.
Image formats: JPG, BMP, GIF, and PNG.
Audio formats: MP3, WMA, FLAC, and AAC.
Video formats: WMV and MP4.
Subscribe to our
RSS feed
to be notified when we post a full hands-on review of the Augen ebook reader.