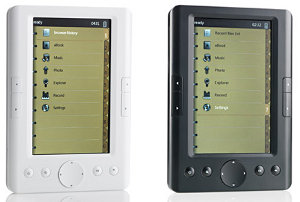 A new ereader has just been spotted for pre-order in the UK for £99, the Sovos SVEBK5B color ereader.
The Sovos ebook reader is one of several new multipurpose devices that uses an LCD screen instead of electronic paper. The benefits of these types of ereaders is that they can display color images and play videos, but have considerably worse battery life than tradition ereaders and aren't easy to read in bright light.
This particular device appears similar to the DreamBook W95 eBook that we reported on earlier in the week. Like the DreamBook, it has a 5-inch TFT screen with a pixel resolution of 800 x 480. The battery will last about 30 hours for music and 7 hours for ebook reading.
The Sovos ebook reader supports ebooks with DRM (it doesn't specify but it's probably Adobe DRM) as well as the following ebook formats: PDF, TXT, HTML, FB2, and PDB. For images it supports JPG and BMP. Music: MP3, WMA, APE, FLAC and AAC formats. Video: MP4, MPEG2, and DivX.
The device measures 149mm x 104mm x 10.6mm. It has a built-in speaker and standard 3.5mm headphone jack. There's 1GB of integral storage, an SD card slot, and a USB port for transferring files.
The Sovos ereader is available for pre-order from Amazon UK
and Play.com for £99 with free shipping. The expected ship date is July 19th, 2010.