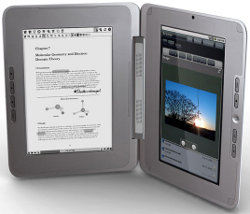 The first dualscreen ebook reader laptop hybrid, aka the Entourage Edge, has reached the windmill-swept plains of the Netherlands.
The most surprising news of this is the €599 starting price for midnight blue model, and €639 for the black, white, red, and ice blue models. The latter price converts to about $800 USD!
In the US the device sells for $499 and $539 from the Entourage Edge website. So that's quite a drastic increase, even considering VAT.
A quick look at laptop prices in the Netherlands reveals that there are several really, really nice laptops for about €500, with decent ones priced at €300.
The Entourage Edge has some cool features, but it's going to be tough sell at that price-point.
The Edge has a 9.7-inch E Ink screen with a Wacom tablet touchscreen on one side and a 10-inch color LCD touchscreen on the other side. It has Wi-Fi and bluetooth, runs Google Android, and has a built-in microphone, speakers, and webcam. It supports Adobe EPUB, PDF, and Microsoft Word, Excel, and PowerPoint thorough DataViz Documents To Go Software.
More specs, photos, and a video can be found on our dedicated Entourage Edge page.
Via: Teleread