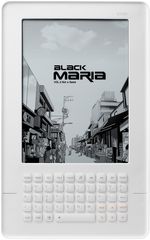 Just happened to check this morning and the new iRiver Story with WiFi is up for pre-order on WHSmith in the UK, with a release date of July 28th, 2010.
When the new WiFi Story was first announced last week, the price was listed at £250, and a lot of folks grumbled about the £100 extra for the WiFi model over the original.
Good news. iRiver listened and dropped the price down to £199, a much more competitive price point in the UK. That's about the same price as the Sony Touch and a Cybook Opus, and £80 less than the WiFi-equipped BeBook Neo.
The big news with the iRiver Story is of course the WiFi that will connect it to the WHSmith ebook store for downloading ebooks wirelessly. Other than that, the specs are pretty similar to the old model, with the exception of a slight weight difference and the new model supports 16 shades of gray instead of 8.
Here's the tech specs for the iRiver Story WiFi:
6" E-Ink Display with 800×600 pixels and 16 shades of gray.
Dimensions: 203mm x 127mm x 9mm.
Weight: 291 grams.
2GB internal memory, SD card slot for up to 32GB.
Menu Language Support: 16 Languages (Korea/English/Russian/German/French/Spanish/Italian/Japanese/Polish/Turkish/Swedish/Czech/Dutch/Chinese(Simplified,Tradition), Romainan).
Battery Life: 9000 pages; 20 hours auido playback; 5 hours recording.
Text Formats Supported: Adobe PDF and EPUB, TXT, PDF, DOC, PPT, XLS, and HWP.
Comic Viewer: Zip (JPEG, BMP & PNG).
Audio Formats: MP3, WMA, and OGG.
Only Compatible with Windows XP/Vista/7.