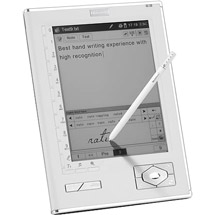 Since my local Borders stores all seem to be anti-Kobo Reader, I decided to check Walmart.com to see if they've started carrying it since Walmarts in Canada do.
No such luck. But I did find that Walmart.com is now selling 4 Hanvon Wisereaders, and the prices are lower than expected: $228 for the touchscreen model and $158 for the non-touchscreen. Both come in black or white, have 5-inch E Ink screens, and both are priced lower than anywhere else I've seen.
Hanvon eReaders are out of China. In fact, Hanvon is the #1 ebook reader brand in China.
The touchscreen model uses a stylus for on-screen note-taking, highlighting, navigation, etc., and it has a unique text recognition feature that can convert freehand writing into digital text. And the non-touch model is one of a few ebook readers to support OpenInkpot, an open source ebook reader firmware with many customizable features.
Both models come with 512MB of internal memory and support SD cards up to 32GB.
Both support the following formats: Adobe EPUB and PDF, TXT, HTXT, HTML, and DOC. And the touchscreen model supports audio playback for MP3, WAV, and WMA files.
Earlier this year at CES, Hanvon announced that they would be introducing a line of new ereaders specifically for the US market this year, but nothing so far. The ones Walmart is selling have been out for quite a while now.