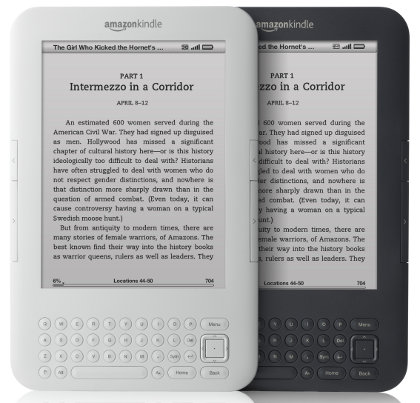 Amazon has just announced two new 6-inch Kindles, the Kindle WiFi and a new Kindle 3G. The WiFi only model costs $139 and the 3G plus WiFi version costs $189.
Both models are now available for pre-order and will ship to 140 countries beginning August 27th. The WiFi model comes in black (graphite) and the 3G model is offered in black or white.
The new Kindles come with hardware and feature upgrades compared the now out-of-stock Kindle 2. Most notably, they come with the new Pearl screens from E Ink that have 50% improved contrast, the same screen that the new Graphite Kindle DX has (here's some photos and video reviews of the new higher contrast screen on the Kindle DX review page; it's quite an improvement, especially when reading in lower light).
The new Kindles are smaller than the previous Kindle 2, with a 21 percent smaller body and 15 percent lighter build. Despite the smaller size, they've managed to cram a lot more battery life into the device: up to 1 month with wireless off and 10 days with it on. They've also doubled the internal memory to 4GB and have improved the page refresh rate to make it 20 percent faster.
And that's just getting started. Here's a list of the other most interesting new features mentioned in the press release:
New WebKit-based Browser (experimental): The new Kindle uses a new web browser based on the industry-leading open source Web browser engine, WebKit. The updated browser is faster, easier to navigate, and provides a new "article mode" feature that simplifies web pages to just the main text- based content for easier reading. Web browsing with Kindle over 3G or Wi-Fi is free.

Improved PDF Reader: The new Kindle uses an improved built-in PDF reader with new dictionary lookup, notes and highlights, and support for password protected PDFs.

New Lighted Leather Cover: The all-new Kindle cover features an integrated, retractable reading light that lets you read comfortably anytime, anywhere. The light is a permanent part of the cover, so it's always with you, and hides away into the cover when not in use. The high-quality LED light illuminates Kindle's entire paper-like display, adding brightness without adding glare. Amazon's patent-pending hinge system secures Kindle in place and conducts electricity from Kindle's battery to the reading light, eliminating the need for batteries. The conductive hinges are gold-plated to ensure a reliable electrical connection. Gold is used because of its ability to make good electrical contact even with low force and for its corrosion resistance. The Kindle cover is sold separately.

New Voice Guide: With Text-to-Speech, Kindle can read out loud to you. New Text-to-Speech enabled menus allow customers to navigate Kindle without having to read menu options. In addition to listening to books aloud, users now have the option of listening to content listings on the home screen, item descriptions, and all menu options.

Quieter Page Turn Buttons: Quieter page turns means you can read all night without disturbing your partner.