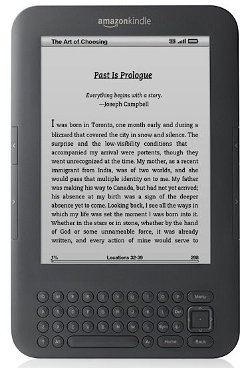 Last fall when Amazon first announced the Kindle International, it was mentioned that they'd soon bring the Kindle to the Amazon UK store, and now they intend to do just that with the release of the new Kindle WiFi and Graphite Kindle 3G.
Until now, all Kindle purchases had to be made from the Amazon US site and paid for in US dollars, which required various extra conversion fees and shipping charges. But now, both new Kindles can be ordered directly from Amazon UK, with free shipping to boot. The Kindle WiFi
sells for £109, and the Kindle 3G
sells for £149.
Those prices are very low compared to what other devices with far less features are selling for in the UK. For instance, the Sony 600 is currently listed at £171, the 300 at £129, the Cybook Opus at £189, and the new WiFi iRiver Story just went on sale for £199.
The Kindle UK store will officially launch on August 27th, the same day the new Kindles start to ship.
On the Amazon UK homepage, Amazon has a note about the new Amazon UK Kindle store. It says there are over 400,000 titles to choose from, and that newspaper, magazine, and blog subscriptions are also available. The specs even list the web-kit browser as being free to use with WiFi and 3G (when the Kindle International initially launched, internet browsing and blogs weren't available for UK customers).
Interestingly, Amazon UK doesn't currently list the Kindle DX for order or the white Kindle 3G. Perhaps those will be added when the UK Kindle store officially launches on August 27th.