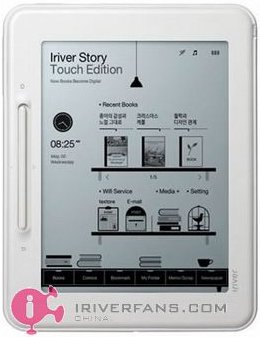 While some ebook reader companies are calling it quits in light of the heated competition and price wars, iRiver (it's supposed to be a lowercase R, but I'm a rebel) continues to advance their ereader product line.
Just recently iRiver announced the new iRiver Cover Story with WiFi that connects directly to the WHSmith ebook store for downloading ebooks.
And now, according to a Chinese iRiver fan site, there's a new story on the horizon that features a completely new design and a touchscreen, the iRiver Cover Story.
An official list of specs is not yet available, and the above link refers to a page that is mostly images so Google Translate doesn't help (here's a translated page I found that reveals a little more info, though poorly translated), but so far it looks to have a 6-inch E Ink touchscreen for both fingers and a stylus, 9000 page battery life, G-sensor, 2GB of internal storage with an SD card slot for cards up to 32GB, and supports EPUB, PDF, FB2, DJVU, DOC, DOCX, TXT, PPT, PPTX, XLS, XLSX, HWP, ZIP and CBZ (JPG, BMP, PNG, GIF) for comics, and supports MP3, OGG, and WMA audio files.
The iRiver Cover Story measures 126mm x 162.8mm x 9.5mm and weighs 230 grams. And sounds like it may have some kind of magnetic cover that comes with it, but it's hard to tell for sure from the translation.
According to Engadget, the iRiver Cover Story is going to be for the Korean market only, but if it works out well I don't see why it wouldn't soon reach wider markets, especially considering the fact that it lists English as one of the supported languages, along with 14 others.
iRiver Cover Story at IFA