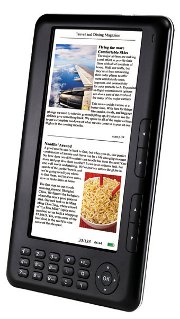 Another day and another color ereader is announced. This one is from a company called Skytex that makes netbooks, tablet computers, and portable media players.
The Skytex Primer is a 7″ color ebook reader and portable media player that is expected to sell for $99 when it is released in October. It has a widescreen resolution of 800 x 480, supports video and audio playback, and even has an FM tuner to listen to the radio using headphones or the built-in speaker.
The Skytex Primer comes with 2GB of internal memory and has a micro SD card slot for memory cards up to 16GB. It supports 18 different languages, runs on a ARM9 400 MHZ processor, has a built-in microphone and recording software, gets 7-8 hours on a battery charge, and supports the following formats: EPUB, PDF, TXT, HTML, PRC, JPG, PNG, MP3, WMA, APE, FLAC, AAC, RMVB, VOB, DAT, MP4, FLV, 3GP.
Looking at the device in the picture, it looks a lot like the Augen eBook Reader, except it doesn't have a full keyboard and there are two sets of buttons on the right side of the screen for some reason—an odd placement for sure.
The Primer comes with a USB cable, power adapter, quick start guide, earphones, and a protective sleeve cover. For more information and reviews, the Skytex Primer is listed on Amazon.com.