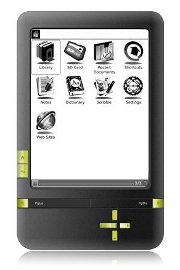 The Onyx Boox X60 is another ereader to make an appearance at this year's IFA. Like the previous Onyx Boox 60 model, this one features a Wacom touchscreen and has WiFi bulit in.
There's also a white model with silver buttons that looks more traditional than the one pictured to the left, and a non-touchscreen model as well. They will be available in Europe and possibly the US sometime in October. The price is expected to be about the same as the previous Boox 60.
The most interesting thing about the Onyx Boox X60 is that it has a drop proof design. In the video below, the demonstrator drops the Boox 60 from about 4 feet up. It slams to the ground and bounces around a few times, then works fine afterward. That's pretty impressive considering the fragility of the glass substrate used for the E Ink screen.
Onyx Boox X60 Video Demo
Onyx Boox X60 Specs and Features
6-inch E Ink Vizplex display with Wacom touchscreen and stylus.
800 x 600 pixel resolution with support for 16 shades of grayscale.




Wi-Fi.
Webkit web browser (presumably since the last model had it).
Text to speech.
Dictionary.
Zoom.
Change font type and size.
Add highlights.
532 MHz Freescale processor.
512 MB internal flash memory, SD card and SDHC card support up to 32GB.
3.5mm headphone jack.
Dimensions: 196mm x 121mm x 11mm.
Weight: 289 grams (10.2 ounces).
Support Formats: Adobe DRM, ePub, PDF, TXT, FB2, DOC, HTML, CHM, MOBI, DjVu, MP3, WAV, JPG, GIF, PNG, TIFF, BMP.
Language Support: English, Chinese, German, French, Dutch, Spanish, Portuguese, Russian, and more.