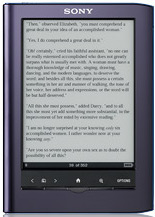 The Sony PRS-350 is now listed as "In Stock" on the Sony Style website and I just received an email saying that mine has been shipped—pity it's a Friday.
The PRS-650, however, hasn't shipped yet and is still listed as pre-order. It's expected ship date is September 16th.
While checking around on some of the regional Sony websites for other shipping dates, I noticed something odd. There are different colors available in different countries.
Canada, for instance, has an option for a red, black, and silver PRS-650, whereas red and black are the only options in the US. Some European Sony Style stores have a gorgeous blue PRS-350 (shown in the picture) that isn't available to many other countries. And some countries only have one color choice.
Possibly the oddest thing of all is the fact that the PRS-350 started shipping in Canada before it started shipping anywhere else—that's a first. Some people have already received theirs, in fact. And now Sony Canada
lists the PRS-350 as out of stock, with no expected ship date, while the PRS-650 says available on or about 9/24—a full eight days after it is listed to ship in the US. How does that make any sense?