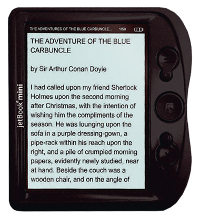 The Ectaco jetBook Mini is now available for pre-order for $99 from the Ectaco website, and is expected to start shipping on October 1st. It is currently available in black and yellow, although the initial leaked picture at the bottom of this page shows several colors . . . so there's probably more to come.
Ectaco has been selling ebook readers for over 2 years now with the original jetBook and jetBook Lite. Like the previous models, the jetBook Mini uses a monochrome LCD display instead of a true electrophoretic display like the Kindle, Sony, and most other ereaders. Instead, it has a 5″ TFT screen and runs on 4 AAA batteries that can last up to 90 hours for continuous reading, according to Ectaco.
What makes the Mini unique is its new design that somewhat resembles the PocketBook 360. It is also one of the smallest and lightest ereaders at just 5.8 ounces, but not quite as small as the new Sony PRS-350 that weighs in at a mere 5.47 ounces.
The jetBook Mini supports a wide range of interface languages: English, French, Italian, Portuguese, German, Spanish, Polish, and Russian. For formats it only supports TXT and FB2 converted from LIT, MOBI, EPUB, HTML, PRC, RTF, PDB, and PDF using Calibre. No DRM support.
Other features include 6 different font sizes from 16 point up to 32, adjustable text alignment, line spacing, breaking and encoding options. There's a clock, the screen rotates 360 degrees (manually), and it has an SD card slot for cards up to 2GB.
Ectaco jetBook Mini Video Demo