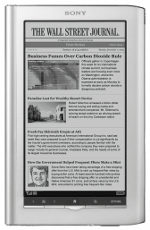 Okay. So it's not much, but I managed to obtain a few minor details about the new Sony PRS-950 that haven't been revealed anywhere else.
This came via a PDF from Racepoint Group, Sony's PR agency. I spotted a couple of typos and factual inaccuracies in the PDF so take this information with a grain of salt.
The first thing is that the Sony PRS-950's web browser will be unlocked for use with WiFi only; it won't work over 3G. The free 3G will be provided by AT&T—the same as the first generation Daily Edition—along with access to free WiFi hotspots. The most disappointing news about this, however, is this line quoted from the PDF:
Content outside the Reader Store and Google Books content will not be available for wireless download, but can be easily managed through your compatible PC or Mac.
I hope that Sony reconsiders not allowing downloads with the browser. Not being able to severely hampers its usefulness. If the browser only works over WiFi, then what has Sony got to lose? Why not continue with their open approach attitude toward ebooks? At least let people download free ebooks and ebooks borrowed from libraries, if not 3rd party ebook retailers that sell Adobe DRM-ed ebooks.
Again, the same with the PRS-900, Sony wants to force users to buy ebooks from the Sony Reader Store. Everyone always speaks bad of Amazon's closed-in approach, but even the Kindles can download ebooks in compatible formats (PDF, AZW, TXT, MOBI, PRC) using the web browser over WiFi and 3G.
Aside from the wireless, the only other new information not mentioned on Sony's website or any of their press releases so far is that the PRS-950 will have 2GB of internal memory, the battery is rated to last 14 days with wireless on and 27 days with it off, and the device weighs in at 8.99 ounces. That's almost 4 ounces lighter than the older PRS-900. In fact, it's lighter than Sony's earlier 6-inch model, the PRS-600.
All the other details the PDF talks about have already been reported on these two posts about the new screen technology and new features.
Make sure to subscribe to this site's RSS Feed to get all the latest news about the Sony PRS-950.
Update: Sony has updated some information on the PRS-950 product details page. It says the device weighs 9.6 ounces and is .38″ thick. Additionally, they say that the battery life is 10 days with wireless on and up to 22 days with wireless off.