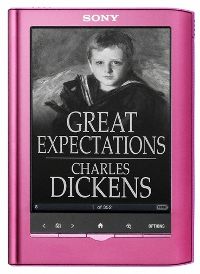 Now that the new Sony Readers were officially announced a couple of days ago, more details about the technology used for the touchscreens are coming out, along with the user manuals and videos for both the PRS-350 and PRS-650.
If you missed the details about the new Sony Readers, the big news is that they use the new high contrast Pearl screens from E Ink.
But the bigger news is that they feature touchscreens that don't have an added layer over the top of the screen like Sony's previous touchscreen ereaders. The added layer reduced contrast and caused quite a bit of reflection and glare, so now that they've removed that, the new Sony Readers' display should look just as good as the new Kindle 3.
Neonode's zForce Touchscreen Technology
The answer to the question about Sony's new touchscreen comes by way of Neonode's zForce eBook technology. From the press release:
Neonode's patented touch screen technology, zForceTM, supports high resolution pen writing in combination with market leading finger navigation including gestures, multi-touch, sweeps and much more. zForceTM uses no overlay (like resistive and capacitive touch screens) on top of the e-ink display thus creating a 100% clear window free from reflexes and parallax effects and produces a true paper like experience.
The press release basically repeats that same exact paragraph 3 times without going into any specifics on how the technology works. More information can be found on the Neonode website, but there still isn't much explaining how it works. Guess we'll have to wait and see.
User Manuals: Sony PRS-350 and Sony PRS-650
Sony has put up the user manuals for two of the new readers. Here they are for the PRS-350 and the PRS-650.
Some new features mentioned in the manuals:
User changeable screensavers for when the device is sleeping.
Fixed Zoom setting can be locked so that it doesn't reset when changing pages.
Page mode: margin cut, 2 and 3 column split mode.
Adjustable brightness and contrast settings.
Change dictionaries while looking up a word.
Word log saves previously looked-up words.
Create and manage collections from the device itself.
Clock added to menu.
Sony Reader for iPhone and Android
The last bit of news is that Sony is finally working on applications for iPhone and Android for their Reader store software so that users can read and sync ebooks on multiple portable devices. Given the fact that Amazon, B&N, Kobo, and even Borders have reading apps, it's about time that Sony started working on them too.
New Sony Readers Country List
With the release of these new readers, Sony plans to expand their market for the PRS-350 and PRS-650. The PRS-950 remains US-only at this time because of the 3G wireless (Sony's ebook store is Canada and US-only so marketing their wireless ereader in other counries doesn't make much sense—you'd think they'd at least sell it to Canada though).
As for the PRS-350 and PRS-650, these are the countries that it will officially be available to: US, Canada, UK, Germany, Australia, Netherlands, New Zealand, Spain, Austria, Japan, France, Italy, China, and possibly others.
Sony's New eReader Video
Sony LearnTV – The New Sony Reader PRS-350 and PRS-650