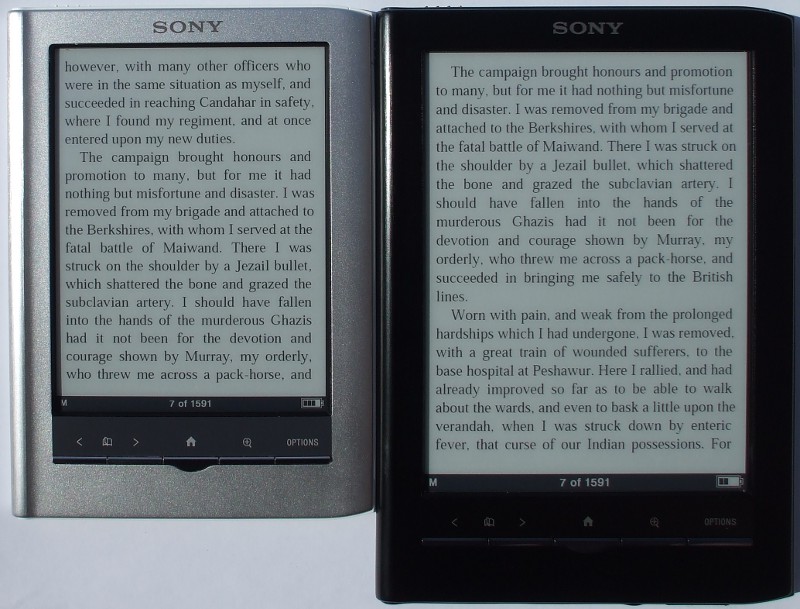 During the initial reviews for the Sony PRS-650 and PRS-350, I said that I liked the PRS-650 better because of the larger screen size and memory card slots. But after using them both for a few weeks, I'm not sure which one I like better.
As far as the user interface goes, they are pretty much identical. They both have all the same touchscreen features and functions, with the exception that the PRS-650 has an audio player.
So other than the size and price, there's not a whole lot of difference between them. But still . . . that doesn't make choosing one or the other any easier. So I decided to make a list comparing the differences between the new Sony Touch and Sony Pocket, and then listing the advantages of each device specifically compared to the other.
PRS-650 vs PRS-350: The Differences
| | Sony PRS-650 | Sony PRS-350 |
| --- | --- | --- |
| Screen Size | 6-inch | 5-inch |
| Weight | 7.58 oz | 5.47 oz |
| Dimensions | 6 5/8 x 4 3/4 x 13/32 | 5 3/4 x 4 1/8 x 11/32 |
| Colors | Red and Black, Silver in some countries | Pink and Silver, Blue in some countries |
| Memory | 2GB, SD and Pro Duo card slots | 2GB, no expansion |
| Audio | MP3 and ACC, headphone jack | none |
Text Size
Aside from the technical differences, the main thing to consider when trying to decide between the PRS-650 and PRS-350 is the amount of text shown on-screen. Click the picture at the top of the post for a close-up comparison of the difference in the amount of text between the two devices. Both use the same exact text sizes.
The picture shows the text on the medium setting. If you like reading with a larger text size, then the PRS-650 is probably the better option. The PRS-350 is more suited for those that like to read smaller text.
Construction
One quick thing to point out, the PRS-350 has a plastic edge along three sides—probably to make it even lighter—whereas the PRS-650 uses aluminum all around.
PRS-650 vs PRS-350: Conclusion
Trying to decide between buying the PRS-650 and PRS-350 is not easy, hopefully this post has helped you decide which one is the best fit for you. Here's a summary of the advantages of both:
Advantages PRS-650
Memory card slots
More text on-screen, less page turning
Larger screen size is better for viewing PDF files
Audio support
Slightly stronger build
Advantages PRS-350
Extremely light and easy to hold
Diminutive size makes it highly portable, even pocketable
Costs about $50 less than the PRS-650