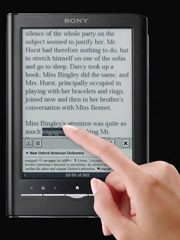 This post is a list of shortcuts for the Sony PRS 650 Touch Edition and PRS 350 Pocket Edition, along with some helpful tips and tricks.
Here are links to some earlier Sony Reader posts that you may find useful as well: How to get free news feeds for a Sony Reader with Calibre's news fetch feature; How to change fonts on a Sony Reader.
Please feel free to leave comments about any other PRS 650/350 shortcuts, hot keys, or hidden features that you may happen to discover.
Sony PRS 650/350: Shortcuts and Hot Keys
Power Off: Slide and hold power switch for 3 seconds.
Power On/Sleep: Slide power switch and release.
View Clock: Tap Options while reading, clock appears for 5 seconds in place of the page numbers.
Go Back in Menus/Return to Book List: Hold Options button for 3 seconds.
Press font button + page-forward/page-back buttons to quickly Zoom in and out with the custom Zoom dial.
Jump to Page: Tap page numbers at the bottom of the screen to bring up the page dial to enter a page number.
Quickly Scan Through Pages: Swipe and hold down on the page, or hold page-turn buttons down.
Input optional characters with keyboard: Tap and hold a character, a pop-up appears with optional characters if applicable.
On-Screen Functions and Other Features
Add/Delete Bookmark: Double-tap top right corner of screen; or hit options then add bookmark.
Add Highlights: Double-tap, hold down and drag cursor, release, then tap the highlight icon when the dictionary pop-up appears; or hit options then add notes then create/edit to use the notes and highlights menu.
Add Notes: Tap a highlighted word or bookmark to add freehand or typed notes to it; or hit Options then Notes and Create/Edit to add freehand notes directly on the page. There's also a Text Memo app in the applications menu on the Reader's homescreen for typing notes with the on-screen keyboard.
Export Notes and Highlights: Plug the Reader into your computer with the USB cable, open the Reader software if it doesn't open automatically, navigate to the book with the notes/highlights using Sony's Reader software, open it, and then click the green icon on the lower left to export the notes as an RTF file.
Word Search: Double-tap a word and then select the search icon from the dictionary pop-up, or hit Options then tap search to use the keyboard to input a word.
Change Dictionary: Double-tap a word to open the dictionary pop-up, then tap the dictionary's name to bring up the list of other dictionaries, or go to the device's home menu then select settings then application preferences to set the default dictionary for the PRS 650 and PRS 350.
Indicator Light
Red Light = charging
Orange Light = booting/shutting down/internal memory access
Light Off = charged/in operation
User Manuals
Sony PRS 650 user manual
Sony PRS 350 user manual
Sony PRS 650/350: Screensavers
Turn screensaver on/off: Home – Settings – System Management – Standby Screen
Turn screensaver message on/off: Home – Settings – System Management – Standby Screen
Change screensavers: First add images to the reader via USB or memory card. Go to Pictures in the Applications menu then hit Options then tap Select Standby Screen to choose images for standby. If more than one is selected it changes the image each time the Reader goes into sleep mode.
Battery and Power Management
The battery charges in 3 hours connected to a computer's USB port or about 2 hours when using the optional AC adapter.
The user manual says that the following functions may cause the Reader to consume more battery power:
Content with a lot of graphics/images
Using the MP3 player (PRS 650)
Using the slideshow feature
Frequently inserting and ejecting memory cards (PRS-650)
"An excess number of contents in a memory card"
EPUB and PDF files partially conforming to document standard
Annotation, keyword search and dictionary search functions
Power Saving Tips
Power off the Reader completely if not in use for more than 1 day.
Do not let the battery remain uncharged for long periods of time.
Use the device at normal operating temperatures: 41°F to 95°F (5°C to 35°C).