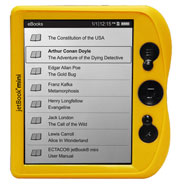 The jetBook Mini is starting to show up for sale on several retail websites (even in packs of 10 in some cases), but there are a few important details that consumers need to know about this device before ever considering buying it.
The $99 price tag and eight bright color choices the jetBook Mini comes in may catch the eye of someone looking for a budget ebook reader, but if you aren't careful and don't do your research before buying you're probably going to end up with a $99 paperweight.
So what's the big bad secret about the jetBook Mini, you ask? Well, they can call it an ebook reader all they want but the fact remains that the jetBook Mini doesn't support any ebook DRM formats. In fact, it doesn't even support any ebook formats that are readily available from any major English-language ebook websites.
That's right. The jetBook Mini only supports FB2 and TXT formats. The most misleading part is that if you don't read the specs carefully you may end up thinking that it supports a whole laundry list of formats because Ectaco lists the following formats that can be converted to FB2 and TXT using Calibre: LIT, MOBI, EPUB, HTML, PRC, RTF, PDB, and PDF.
Another gripe with Ectaco's specs is they say the jetBook Mini is the lightest ebook reader in the world. Not true. The Sony PRS-350, PocketBook 360, and Cybook Opus all weigh less—and the latter two have been on the market for quite a long while now.
The strange thing about all of this is that Ectaco's other ebook readers, the jetBook and jetBook Lite, are both very popular and support DRM formats as well as several non-DRM formats. And the jetBook Lite often drops down to $99 at Amazon and JR—a much better value for the money.
In the end, the jetBook Mini just doesn't make sense. Perhaps in countries where FB2 format is readily available and ereaders are hard to come by, some may find a use for it, but here in the US where there are so many options, the jetBook Mini hardly qualifies as an ebook reader and is way overpriced to boot, especially considering you'll have to frequently buy AAA batteries to keep it running.