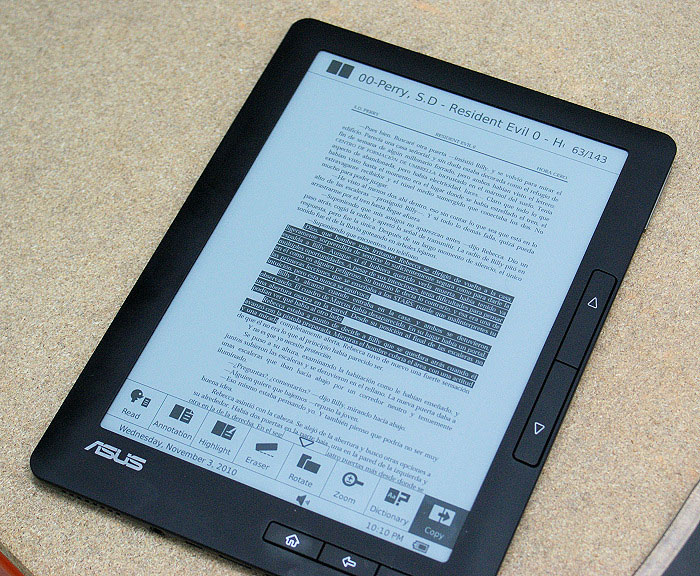 The Asus DR-900 is one of those ebook readers that there seems to be a lot of interest for, but there's been very little information actually revealed about the device up to this point.
A few weeks ago a variation of the DR-900 was finally released in Taiwan as the TZ-900. There still isn't any word on when the device will be released outside of China, but a Spanish website was able to get their hands on the DR-900 to give a review of the device.
Here's the link to the translated version of the DR-900 review. It translates pretty well.
I was most interested in seeing the SiPix touchscreen in action to see how it compares to the SiPix screen used on the new Pandigital Novel Personal eReader. The Pandigital's screen suffers from grayish-colored text and a dark background. Looking at the video and pictures it is hard to tell, but it certainly looks like the DR-900 has dark text and good contrast overall.
The DR-900 features a 9-inch SiPix touchscreen with a resolution of 1024 x 768. It weighs about 600 grams and is 10mm thick. It has WiFi and a web browser, with 3G wireless optional. There's a headphone jack, micro USB port, 2GB of internal memory, and a microSD card slot. The battery is rated at 10,000 page-turns with the wireless turned off.
Some other features include text-to-speech, a built-in dictionary, adding notes and highlights (including handwriting recognition), there's a built-in bookstore app, audio player, an RSS reader app, and some other apps too.
Asus DR-900 Video Review
Via: Engadget