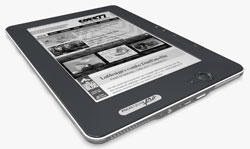 This is hardly news for those of you who are paying close attention, but two of the new PocketBook eReaders, the PB 602 and PB 902, are up for pre-order, along with the PocketBook IQ Tablet.
I was waiting for the numbers to come in on the 3G touchscreen models, the 603 and 903, before posting about it, but there seems to be a delay so here is the pricing and release dates on the PocketBook 602, 902, and IQ Tablet.
According to PocketBook US, the PocketBook 602 is expected to be available for immediate shipment next week and the 902 and 701 (IQ Tablet) will be shipping in about 3 weeks. Update: The 701 and 602 started shipping as of November 12th. The 902 is expected to arrive around the 20th – 25th, unofficially.
Pricing for the new models is a little confusing because the PocketBook website has slightly higher prices for the 602 and 701 than Dulin's Books, an authorized PocketBook retailer. So I went with the lower prices.
The European pricing for the new PocketBooks was released awhile ago and can be found here.
PocketBook 602
Standard Package: $169
Comfort Package: $199
PocketBook 902
Standard Package: $299
Comfort Package: $329
PocketBook 701 IQ Tablet
$139
The standard package comes with a micro USB cable, quick start guide, and 2 year warranty. The comfort package includes those as well, along with a wall charger and 2GB SD card. The IQ comes with a wall charger and USB cable.