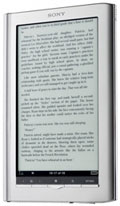 Remember a couple of weeks ago when I posted about the Sony Daily Edition showing up at Best Buy well ahead of the released date?
The website was showing it as backordered but if you clicked on the "check stores" link several stores across the country were showing it as in-stock—a lot of people went out and bought one. In most cases reported, the units were not out on the floor. Best Buy employees had to get them from the "storage room".
As it turns out, those Readers weren't meant to be sold. According to Sony they were demo units (I'm not convinced). I received an email from Sony this morning explaining:
Thank you for your recent purchase of a Reader Daily EditionT (PRS-950). We appreciate your excitement about digital reading and know you want to get started with your new Reader right away. Unfortunately, it has come to our attention that you were inadvertently sold a unit that was meant for retail demonstration only and may not be fully functional. We would like for you to enjoy all the features the Reader Daily Edition has to offer as soon as possible so we will be sending you a brand new device. You will also receive a prepaid mailing label and ask that you send the demonstration unit back to us.

Please give us a call at your earliest convenience so we can send you a new device. You can reach us at 1-800-442-7669.

We apologize For any inconvenience this may cause And wish you happy reading.

Sincerely,
The Reader Team
This is where it gets interesting. I paid cash for the Daily Edition at Best Buy so Sony has no way to track that specific order to my email address. Which means that the email is either being sent to everyone who has registered a PRS-950 to their Sony Reader account, or Sony can somehow detect the fact that it is a demo unit via the wireless connection (not betting on that). Or perhaps they are sending the emails to just those of us you registered the device before a certain date?
Either way, color me confused. I haven't had the slightest bit of trouble with the Daily Edition up to this point. Everything works, all the features are active, even 3G works. I have no idea what Sony is talking about on this one.