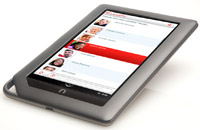 Barnes and Noble issued a press release today announcing that the Nook Color is now shipping. Initially they had said it would start shipping this Friday the 19th, but it looks like everything has gone smoothly thus far (last year's Nook launch was a disaster).
New orders placed are expected to start shipping on or around November 26th. From the press release it sounds like Barnes and Noble thinks there's a chance they might run out before Christmas, or maybe that's just a selling ploy.
The press release also mentions that the firmware update for the Nook 3G and WiFi will be released next week, which is supposed to add a bunch of features most requested by Nook owners over the past year.
In other Nook Color news, several reviews are showing up this morning from mainstream media. Some reviewers are quick to point out all the flaws of the device, and others won't stop gushing about it.
I'll be posting my own hands-on Nook Color review within the next few days. Until then, here's a list of reviews from around the web:
NOOKColor Video Reviews