There are two new ebook readers coming to Australia on November 19th from Millennius, one is 6-inch E Ink ereader (pictured left) and the other is a 7-inch color LCD ereader.
This adds to the Kobo eReader, Kindle, and Sony Readers as options for ebook readers in Australia, along with a few obscure brands.
The 6-inch model comes with a E Ink Vizplex screen and has WiFi, text-to-speech, 2GB of internal memory, a microSD card slot, and a battery that lasts for up to 8000 page-turns. The dimensions for the 6-inch Millennius ereader are 180 x 120 x 10.5 mm, and it weighs 200 grams. It has a Dual Core 400 MHz processor (the first I've seen in an ereader).
There's no mention of DRM support, just the following formats: TXT, EPUB, FB2, PDF, DOC, XLS, PPT, CHM, HTML, DJVU, RAR, and ZIP. For images: JPG, BMP, GIF, and PNG.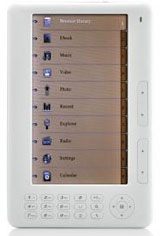 The 7-inch color ereader from Millennius is a common Chinese model similar to the Skytex Primer. It has audio player, video player, and image viewer in addition to being an ebook reader.
The 7-inch screen has a widescreen resolution of 800 x 480. The device comes with 2GB of internal memory and has a microSD card slot for cards up to 16GB. There's a clock, calendar, voice recorder, and the battery is rated at 15 hours for reading.
There's a wide range of language supported: English, German, Italian, Portuguese, Dutch, French, Spanish, Polish, Russian, Turkish, Czech, Danish, Japanese, Swedish, Korean, Greek, Simplified and Traditional Chinese, and Arabic.
For formats the 7-inch Millennius ereader supports TXT, FB2, PDF, and EPUB for ebooks; MP3, OGG, WAV, AAC, APE, AMC, AMV, and FLAC audio files; MPEG 1/2, DAT, VOB, FLV, 3GP, RM, RMVB, AVI (DIVX 3 or 5, XVID, MPEG-4 codecs), and MKV video formats; and JPG, BMP, and GIF images.
Both ereaders are listed on the Millennius website. The 6-inch E Ink model is selling for $249 and the 7-inch LCD model is $159.
Via: Gizmodo.au