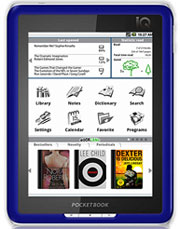 Yesterday morning I received two review units from PocketBook, the PocketBook IQ Android tablet/ereader and the PocketBook 602. I spent all day playing with and experimenting with the IQ and so far I'm pretty impressed.
What's great about the PocketBook IQ is that it runs Android 2.0 and will be able to upgrade to future versions, including 2.2. What's even cooler is that you are free to install 3rd party apps, unlike a lot of other Android-powered ereaders that restrict you from doing so.
The downside with this, however, is that Google doesn't allow devices like this to have direct access to the Android Market. So getting apps to install can be a bit tricky. You have to use an app installer, sideload the apps, or download them using the IQ's web browser.
Over the next week, as I continue to work on the full PocketBook IQ review, I plan on adding links to download some of the more popular free Android apps so that you can find them quickly to easily download. Also I want to mention that I am new to Android and don't know a lot about it yet so feel free to leave suggestions and comments below.
The Touchscreen
The IQ has a resistive touchscreen. Resistive screens are notorious for being difficult to use. But surprisingly I've had little trouble with the IQ's touchscreen. It's very responsive, and accuracy is good. The only thing that doesn't always work is swiping to turn pages. Tapping to make selections, hitting hyperlinks, and using the on-screen keyboard all work really well—no problems whatsoever.
Build Quality
The PocketBook IQ feels extremely solid. The casing is made out of metal, not cheap plastic like most other tablets and ereaders. The downside, however, is that the IQ is a little on the heavy side at about 18 ounces, which makes it more of a two-handed device. I found that reading one-handed the IQ is a leaner, meaning it's more comfortable to hold while leaning against your leg.
EReading
I haven't tested a lot for ereading just yet. The PocketBook reading app is due for an update shortly, so I'll wait until that is finished to get into more details. I installed the Kindle for Android app and it works really well. I also installed Aldiko, a really good app for DRM-free EPUBs with all kinds of customizing options. I tried the Nook app but it would not work. I think it may have been an outdated version. I need to find the latest Nook APK to try out.
I did do some reading for about an hour before I went to bed and found that with the brightness turned almost all the way down the reading experience is pretty good. But I still much prefer E Ink for long periods of reading, to be honest. That's the thing, though. The IQ is not meant to be a hardcore ebook reader. PocketBook already has several of those. The IQ is for those who want to read but also want to be able to surf the web, play videos and music, install apps for games, read color content, have access to multiple reading applications instead of just one, and so on.
Web Browsing
The installed Android web browser works well, but I decided to try installing Opera Mini and found that it works even better. It seems to load faster and it has more advanced options, like tabbed browsing, and scrolling around the page is smoother. Android 2.0 doesn't support Flash, of course, but once the IQ gets upgraded to 2.2 that should be an option.
Closing Thoughts . . . For Now
I really like what I'm seeing so far from the PocketBook IQ. Enough so that I'm pretty sure I'm going to end up buying one. At $150 it blows away the more expensive Pandigital Novel, which is very similar from a hardware perspective. And the IQ also comes with a slip cover and 2 year warranty to boot. Yes, you read that right, 2 years. PocketBook's ereaders all come with double the warranty of any other ereader (and electronics in general for that matter). That certainly says a lot about their company and quality of products.
Overall, the PocketBook IQ still needs some work (granted it was just released a couple of days ago), but if you are looking for a low-cost Android-powered ereader/table, the IQ certainly has a lot of upside and potential. Make sure to check the main PocketBook IQ review page for the full review and specs once I get it finished here in the next week or so.
PocketBook IQ Video Review