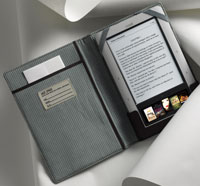 It's finally here. The promised Nook firmware updated. B&N released it yesterday. This applies to the Nook Classic, of course, not the new Nook Color.
This update adds some new features to the Nook Classic and fixes some persisting bugs. The update and instructions on how to install the update can be found here on the Barnes and Noble Nook support page.
Here are the details about the new firmware:
Our current software update has exciting new features and improves NOOK's overall performance. Included in Version 1.5:
1. NEW! Stay in Sync Across Multiple Devices
Automatically sync the last page you read on your NOOK or NOOK app with another. For instance, if you stop reading on a certain page on your NOOK, you'll automatically open to the same exact place on your iPad, iPhone or Android-based Smartphone using our FREE NOOK apps.
2. NEW! Stay Organized with "My Shelves"
Create, name and organize shelves in "My B&N Library" and "My Documents" in "My Shelves". For instance, you can put all your cookbooks on one shelf, all your spy novels on another shelf, for quick and easy access.
3. NEW! Password Protect Your NOOK
Your NOOK can now be secured in two ways to prevent unauthorized use. First – you can set up your NOOK to lock when it goes into sleep mode, then unlock it with a pass code. Second – you can require a password to purchase content, so others using your NOOK cannot buy anything without your permission.
4. Faster page turns, improved search, and other optimization
The software update is available for NOOKs connected to Wi-Fi® through automatic download or via manual download, available here. (Note: This update will not be distributed via the 3G network.) For an automatic Wi-Fi® update, you may need to tap 'Check for new B&N content' in the My Library area in order to initiate the update.
Some other updates not mentioned on the list are an upgraded web browser—the Beta version has graduated— and improved power management for better battery life.