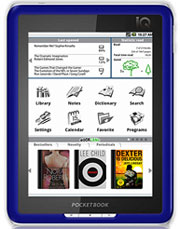 In case you missed it yesterday, there's new firmware for the PocketBook IQ.
If the PocketBook widget on the homescreen is white then you need to update. If it is yellow that fades to blue then it is already updated.
The new update seems to make the PocketBook IQ faster. Scrolling is smoother and PocketBook's Reader app has been improved, although it still does not support Adobe DRM or text to speech, both of which are to be added with a future update.
To install the update download the zip file from PocketBook US or go to the PocketBook Global page for international versions then navigate to the IQ support page.
Don't unzip the firmware update. Transfer it as is to the IQ's SD card. Then shut the IQ down. With the new firmware on the SD card and the IQ shut down, hold the power button and volume + key at the same time until the IQ turns on. It will now boot the new firmware.
Make sure you backup your files and apps before doing the update because it will erase the internal data and all the apps during the update process, so you'll have to re-install them all again.
Update: PocketBook issued a second firmware update, 2.0.3, shortly after the one mentioned above. This update does require you to unzip the downloaded 7z package. There's a zip file inside of it that you put on the IQ's SD card. Then follow the instructions above to install the new firmware. This version goes over the top of the earlier update and does not remove your apps or information.