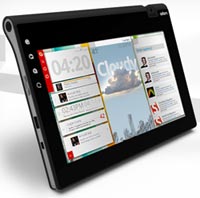 The first major competitor to the Apple iPad has finally arrived in the form of the Notion Ink Adam, which will go up for pre-order tomorrow December 10th, unless you happened to leave a comment on their blog. In that case you will receive an email shortly to place an advanced pre-order (they are rewarding those that have been following their blog, and luckily I was one of them!).
There are different variations of the Notion Ink Adam available, ranging in price from $375-$549. And that's for all countries; Notion Ink intends to use the same prices for every country.
The Notion Ink Adam has a 10.1-inch WSVGA (1024 x 600) display with an option for a Pixel Qi screen, which is highly energy efficient and can be viewed in bright light. The Adam runs Android 2.2, has a NVIDIA Tegra 250 Dual Core Cortex A-9 processor, WiFi, Bluetooth, and optional 3G, video camera, microSD card slot, 2 USB ports, HDMI, microphone, stereo speakers, and a lot of other goodies.
Check the Notion Ink blog and the Notion Ink website for more details.
The Notion Ink Adam blog has been getting so much attention lately that it reached #2 in all WordPress blogs yesterday with over 300,000 page-views in a single day! I think this Adam thingy is going to be BIG.
Here's a link to the dedicated page for the Notion Ink Adam on this website that lists all the available info and specs. Check it often for more news and updates and the full written review once the unit arrives.