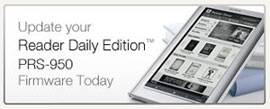 I received an email this morning from Sony about new firmware for the PRS-950 Daily Edition.
The update will not be pushed over 3G so you either have to download it using the Daily Edition's WiFi or download the firmware to your computer from the Sony support page to update manually.
Make sure to follow the directions on that page; there are numerous stipulations, like the the battery needing a full charge and removing the SD cards.
Here's the list of improvements for this new firmware:
Adds a "Purchased Content" icon to the Applications screen to allow you to easily access previously Purchased Content via your Sony Reader Store account and download it directly to your PRS-950.
Receive recommendations from the Reader Store delivered to the Reader Home screen.
Note: The option to receive notifications can be turned off in the General Settings menu.
Synchronizes reading information such as bookmarks, highlights and text notes between two or more Reader Daily Edition (PRS-950) devices.
Notes: To start using the sync function, turn on Page Sync in the Application Preferences screen.Synchronizing across your smart phone devices with applications such as Reader for iPhone will be coming soon.
Take screenshots of the Open Browser or Handwriting Viewer screens and save them as picture (jpeg) files which you can view in the Pictures application. You can also set a captured screenshot as your Standby Image.
Tap a link within text to jump to the web page via Wi-Fi.