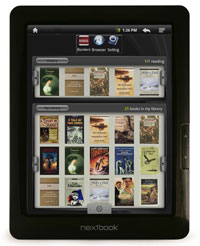 A new Android-powered ereader/tablet combination was released today called the Next3, a WiFi-equipped touchscreen-enabled device that ties in with the Borders ebook store.
Update: Check my hands-on Next3 review for more details on the Nextbook 8.4″ ereader. There's a video review and instructions for installing apps as well.
The Next3 is selling from HSN for an introductory price of $199 and is expected to hit retail stores (presumably Borders) soon.
It features a unique screen size—8.4 inches diagonally. That's with a 4:3 aspect ratio and 800 x 600 resolution. The screen tech is TFT LCD. And it uses a resistive touchscreen.
According to the Next3 spec sheet, the device runs Android 2.1, has a 600MHz ARM926EJ processor, 2GB flash memory, SD card slot, WiFi, headphone jack, speaker, microphone, g-sensor, and supports Adobe DRM. The battery life doesn't sound so great: just 4-5 hours.
For ebooks it supports PDF, EPUB, TXT, FB2, PDB, and RTF. The device measures 8.4″ x 6.4″ x .45″ and weighs about 1.1 pounds.
Here's the rest of the details from the press release:
Built-in Wi-Fi (802.11 b/g) convenience allows users to browse the Internet, receive and answer e-mails, watch YouTube videos, listen to Internet music providers and get real-time weather reports. Turning pages and choosing applications is as easy as lifting a finger with the touch-screen feature. Additional functions include a calculator, clock, and alarm.

The Next3 features Google's powerful Android 2.1 operating system. It has a large 8.4″ TFT color display, built-in speakers, 2GB flash memory with an SD card slot to increase storage capacity, and an MP3/photo viewer. For added fun, third-party applications are available. An elegant, removable case with magnetic closure provides protection.

The Borders eBook store is preloaded on every Nextbook making it easy to purchase and download favorite titles. Next3 users can choose from over one-million titles, many of which are free, including new releases and the latest bestsellers as well as biography, fiction, romance, etc., right from the comfort of their own home. 'Shopping' for an e-book is like shopping for a printed book, except the book is delivered instantly to the Next3 unit.
Next3 Tablet Video Demo